Work Zone Traffic Control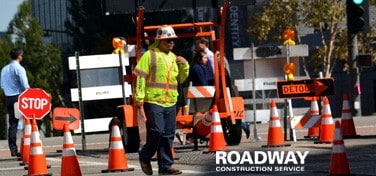 Construction sites are busy enough by themselves. But when you factor in the endless flow of vehicular and pedestrian traffic, these areas can become unduly brutal for a traffic management company. Roadway Construction Service (RCS) knows these work zone challenges very well. And we know of only one way to meet them – with the industry's most effective work zone traffic control strategies. If there's a road construction project to tackle, Roadway Construction Service will have a workable solution.
Call: (855) 907-7233
Ours is no haphazard traffic control company. We consider all variables and contingencies before committing to a course of action. One of our prime considerations is the public right of way. Frequently, construction activity impacts right-of-way areas, such as a sidewalks or roadways. Congestion easily can develop among motorists, pedestrians, and workers.
To maximize public safety and orderly traffic flow, strict municipal codes govern these travel routes. Roadway Construction Service knows the codes inside and out. In fact, they guide us every step of the way. This knowledge gives us a distinct advantage when implementing traffic control strategies in public right of way areas.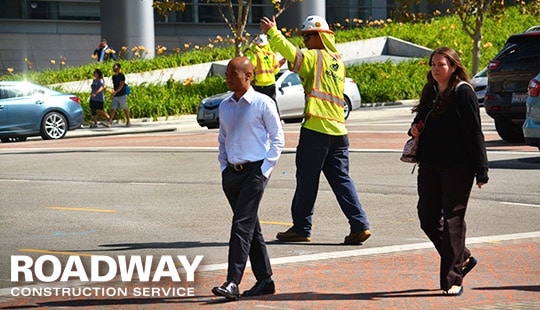 Two Sides of Work Zone Traffic Control
Roadway Construction Service divides work zone traffic control into two basic components. The first of these is hardware. No, we're not showing up with roaring machines. For our temporary traffic control, hardware typically takes the form of traffic barriers. Generally utilized during lane closures, traffic barriers come in a variety of shapes and sizes, from K-rail to traffic cones. Traffic guards such as these are crucial for the protection of motorists, pedestrians, and work crews. For this reason, we focus abundant attention on the deployment of traffic barriers. They don't move much; but they do work hard.
Movement, however, certainly is evident in our second component – the traffic control crew. Every traffic controller on our team is a master of motion. Rest is not an option. Each flagman must flip, shift, turn, and wave the signal flag in an ongoing communication with spotters (traffic observers), motorists, and pedestrians. No traffic flaggers on our squad could ever be accused of idleness.
Nor could they ever be labeled unqualified. That's because their education is second to none. Each of our flaggers has been ATSSA-certified, proof positive they've been trained to the highest safety standards. ATSSA (American Traffic Safety Services Association) is the ultimate boot camp, providing intensive, work zone training courses that expose students to real-world situations. Upon "graduation," ATSSA-certified flaggers can climb mountains if they have to.
Would you like to learn how our work zone traffic control services can improve the safety and efficiency of your construction project? Reach out to Roadway Construction Service for more information about our industry-leading solutions and competitive rates.