Asphalt Striping & Parking Lot Striping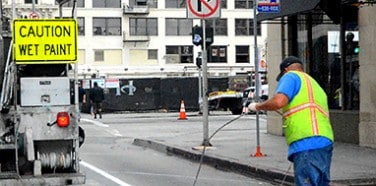 Roadway Construction Services offers professional asphalt striping.
Is your asphalt striping drab, worn, and cracking? You'll need more than a new layer of asphalt to set things right. Also required will be a fresh application of asphalt striping. At Roadway Construction Services (RCS), asphalt striping is one of our core services. But for us, the value of striping goes well beyond aesthetics. Those clearly delineated lines are crucial for the safety of all vehicles and pedestrians. Safety, of course, tops the long-established RCS list of priorities.
The Importance of Asphalt Striping
Asphalt striping is essential for parking lot maintenance as well. Parking lot striping and pavement markings may indicate handicapped parking spaces, fire lanes, pedestrian crosswalks, stop signs, speed limits, no parking areas, and loading zones. Markings also may take the form of directional arrows intended for traffic. A good example is the right or left turn lane, or one-way aisle. All of it plays a role in proper parking lot maintenance and safety, as these markings keep everything organized and neatly laid out for drivers and pedestrians. Thus, confusion is minimized and safety maximized.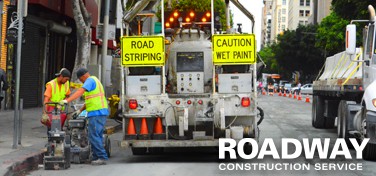 Asphalt Needs Protection, Too
OK, asphalt striping helps protect humans. But what about asphalt? Shouldn't it be defended against the ravages of time, heat, and harsh weather? RCS thinks so. Which is why we include asphalt sealcoating in our striping services. Asphalt sealcoating protects asphalt from a diversity of brutal elements, enabling the surface to resist cracks and preserve its appearance for many years. If protecting your investment is a priority, sealcoating definitely should be a part of any road and parking lot maintenance program.
Aesthetic Appeal of Parking Lot Asphalt Striping
Let's face it. A parking lot, particularly those associated with places of business, speaks volumes about the property. So appearances are important. With fresh parking lot striping, a lot communicates the following – you care enough about the property to keep it clean, safe, and well-organized. And that perception no doubt will extend to the places of business located on the grounds.
What's Good for the Lot is Good for the Road
As with parking lot striping, RCS offers expert road striping to protect the safety and appearance of streets and highways. Indeed, those familiar white lines, yellow lines, and other markings are indispensable for proper road maintenance. Therefore, RCS has invested abundant resources into the development and implementation of exceptional road striping services. In an incredibly busy place like Southern California, road traffic control and safety is essential.
Expert parking lot striping, parking lot sealcoating, and road striping all underscore our commitment to the protection of both people and roadways. To learn more about our striping and sealcoating services, contact RCS today. You'll discover why we're the go-to traffic control service in Los Angeles County, Orange County, Riverside County, San Bernardino County, San Diego County, Ventura County, Kern County and all of Southern California.