Traffic Control Plan
Site specific temporary traffic control plan
Roadway Construction Service employs multiple experienced and certified traffic control plan design specialists and Civil/Traffic Engineers.
Traffic control planning requires forethought. A Traffic Control Plan plays an important role in providing safe and efficient traffic flow. Interruptions in normal flow are necessary for temporary traffic control operations.  The temporary traffic control zone includes the entire section of roadway between the first advance warning sign through the last traffic control device.  Most temporary traffic control zones can be divided into four areas: advance warning area, the transition area, the activity area, and the termination area.
Toll-Free: (855) 907-7233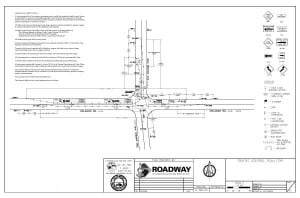 All of Roadway's temporary traffic control plans are engineered to be site-specific showing all current conditions, drawn to scale, and in accordance with the most recent Federal & California state guidelines, and the requirements of the responsible Agency. Roadway is committed to using all new and available technology to produce a custom traffic control plan in the safest and most efficient manner possible to assist with completing your project, the Roadway way, on-time, on budget, safely.
Traffic control planning for major construction projects and special events begins with the city itself. What are the expectations of the local officials? For RCS, this means plugging into the city decision makers and learning about their needs. This is a necessary step for every project. Each city in Los Angeles and surrounding counties are different. Requirements for Torrance might not even be close to those of Santa Monica or Hollywood. One thing all cities have in common, however, is public safety and a desire for minimal impact on the community. In order to meet minimal impact expectations and safety requirements, RCS coordinates their game plan with key personnel at every organization involved.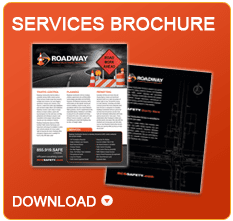 Services
Traffic Control Services
Traffic Control Plan
Permitting
Traffic Studies
24/7 Emergency Response
Single & Multiple Lane Closures
Road Closure/Detours
Freeway Closures
Two-Way Flagging
Temp. "No Parking" Sign Installation
Filming/Special Events
Long Term Projects
Traffic Control Equipment Rental
Temporary Re-Striping
Concrete & Water-Filled K-Rail
Job Hazard Analysis & Job Walks
Traffic Control Consulting
Traffic Control Planning (AutoCAD)
Traffic Studies: Speed Surveys
& Traffic Volume Data
Agency Permit Processing
Equipment Sales