Traffic Control Services for Southern California
Roadway Construction Service offers complete turnkey traffic control services. These services include single lane closures, multiple lane closures, two-way flagging operations, freeway lane closures, ramp closures, construction notice sign installation, and concrete & water-filled k-rail installation.  Roadway monitor's each closure to keep devices in proper position, assist with ingress/egress from the work area, and flag pedestrians and vehicles to ensure a safe completion to the project. Set and leave closures are also available if desired.
Toll Free: (855) 907-7233
Roadway Construction Service's ATSSA Certified Traffic Control Technicians and Supervisors will always be available to safely and correctly address all of your public right-of-way job site needs. Roadway offers emergency response and is available 24 hours a day, 365 days a year.
Multiple Lane Closures
Two-Way Flagging Operations

Road Traffic Barricades

Traffic Control Planning and Permits
Encroachment & Right of Way

---
Contact Roadway Construction Services for all your Traffic Control Requirements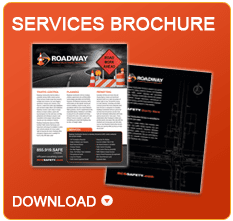 Services
Traffic Control Services
Traffic Management
Traffic ControlPlanning
Traffic ControlPermitting
24/7 Emergency Response
Single & Multiple Lane Closures
Road Closures and Detours
Freeway Closures
Two-Way Flagging
Temp. "No Parking" Sign Installation
Filming/Special Events
Long Term Projects
Traffic Studies
Traffic Control Equipment Rental
Temporary Re-Striping
Concrete & Water-Filled K-Rail
Job Hazard Analysis & Job Walks
Traffic Control Consulting
Traffic Control Planning (AutoCAD)
Traffic Studies: Speed Surveys
& Traffic Volume Data
Agency Permit Processing
Equipment Sales