Traffic Control Services for Southern California
Roadway Construction Service offers complete turnkey traffic control services. These services include single lane closures, multiple lane closures, two-way flagging operations, freeway lane closures, ramp closures, construction notice sign installation, and concrete & water-filled k-rail installation.  Roadway monitor's each closure to keep devices in proper position, assist with ingress/egress from the work area, and flag pedestrians and vehicles to ensure a safe completion to the project. Set and leave closures are also available if desired.
Call: (855) 907-7233
Roadway Construction Service's ATSSA Certified Traffic Control Technicians and Supervisors will always be available to safely and correctly address all of your public right-of-way job site needs. Roadway offers emergency response and is available 24 hours a day, 365 days a year.
Multiple Lane Closures
Two-Way Flagging Operations

Road Traffic Barricades

Traffic Control Planning and Permits
Encroachment & Right of Way

---
When providing temporary traffic control, Roadway Construction Service must manage a wide range of services. It's a good idea to look at some of them.
Multiple Lane Closures
At Roadway Construction Service, the temporary closure of multiple lanes is a common function of our traffic control services. Typically, lane closure will be required when we're providing services in construction zones.
Why do we put such emphasis on closures? For two important reasons. First, there's the obvious safety factor. Clearly, restricting and redirecting road traffic is vital for maximizing the safety of a work zone. Vehicles and work crews must be adequately separated.
Secondly, by redirecting vehicles and pedestrians, closures offer alternative travel routes. These, in turn, help keep traffic moving as smoothly as possible.
Given the impact of road closures, they are a crucial element of our work zone traffic control program. But they aren't restricted to these situations. Any public event, such as a holiday parade or festival, benefits from the implementation of a road closure. With a team of experts ready for action, Roadway Construction Service is prepared to handle every situation.
Two-way Flagging Operations
Our two-way traffic flagging operations offers another stellar example of our commitment to safety. The key element of our traffic flagging services is, of course, our resident team of expert flaggers. In them are all the characteristics necessary to maximize roadside safety – expertise, knowledge, skill, and unflagging dedication.
Is it something in their personality? Partly. Do they possess some type of unique, innate skill? That's undoubtedly true, as well. But perhaps the most important component of their expertise is their training. Whatever skills and other traits that naturally possess have been honed and fine-tuned through intensive training. When these students emerge from their training regimen, they are qualified by the industry's most prestigious certifications, including the OSHA designation.
Road Traffic Barricades
Roadway Construction Service pays special attention to the deployment of road traffic barricades. And for good reason. Often, these pieces of hardware are all that separate traffic from work crews. As such, they are a vital component of our work zone traffic control program.
When selecting road traffic barriers, we choose from a variety of sizes and shapes in our vast inventory, depending on function and conditions. For lighter duty, we may deploy high-visibility traffic cones – easily seen because of their glowing coloration. Jobs that require a more muscular barrier typically are assigned to the largest of our road barricades – k-rail rental (or Jersey Barrier).
No matter which barriers are called into action, we deploy them with skill, precision, and efficiency. As with all other services, safety is our number one consideration.
Traffic Control Planning
Long before personnel and hardware arrive, we must create a traffic control plan of action suitable for the project at hand. For this crucial task, we rely on a team of highly-qualified experts, each of whom is professionally certified. During the planning stage, this team carries out a soup to nuts operation that covers all aspects of a temporary traffic control project. From deployment to clean-up, no detail is ignored.
Encroachment Permits
Acquiring encroachment permits is one of the most important tasks of the planning stage. For this, we combine a thorough knowledge of codes and regulations with our long-standing relationships with key municipal decision-makers. Consequently, we know what's required well in advance. Permits, therefore, are secured quickly, and with minimum hassle. Ultimately, this efficiency saves our clients considerable time and money.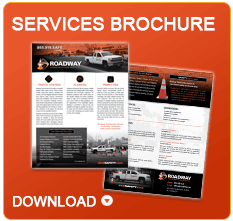 Contact Roadway Construction Services for all your Traffic Control Requirements
Services
Traffic Control Services
Traffic Management
Traffic ControlPlanning
Traffic ControlPermitting
24/7 Emergency Response
Single & Multiple Lane Closures
Road Closures and Detours
Freeway Closures
Two-Way Flagging
Temp. "No Parking" Sign Installation
Filming/Special Events
Long Term Projects
Traffic Studies
Traffic Control Equipment Rental
Temporary Re-Striping
Concrete & Water-Filled K-Rail
Job Hazard Analysis & Job Walks
Traffic Control Consulting
Traffic Control Planning (AutoCAD)
Traffic Studies: Speed Surveys
& Traffic Volume Data
Agency Permit Processing
Equipment Sales