Monitor traffic & lane closures with QuickMap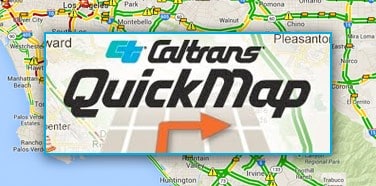 Access real-time traffic information on the Caltrans website. The California QuickMap web page presents several types of real-time traffic information layered on a Google Map. The information includes traffic speed, lane closures and road closures due to construction and maintenance activities, incident reports, Changeable Message Sign content, camera snapshots, and active chain control requirements. Traffic speed is indicated by color-coded lines overlaying the roadway. The location of information content for the remaining layers is identified by markers (icon images) on the map. Clicking on a marker displays the information details in an info window pop-up. Click here for the mobile version: Caltrans Mobile Quickmap.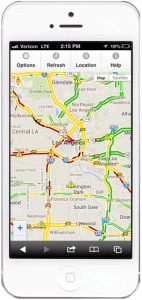 The traffic speed data information is provided by using the Google Maps Traffic Layer. This enables California QuickMap to provide speed data beyond what is available using just Caltrans data. Google uses Caltrans data as well as other sources of data, like Automated Vehicle Location (AVL) from private companies, as well as cellular phone data. The colors represent speeds with the following definitions:
Green: more than 50 miles per hour or 80 kilometers per hour
Yellow: 25 – 50 miles per hour or 40 – 80 kilometers per hour
Red: less than 25 miles per hour or 40 kilometers per hour
Red/Black: very slow, stop-and-go traffic
Gray: no data currently available
Roadway Construction Service specializes in road, ramp and lane closures
Roadway Construction Service offers a complete turnkey traffic control services. These services include single lane closures, multiple lane closures, two-way flagging operations, freeway lane closures, ramp closures, construction notice sign installation, and concrete & water-filled k-rail installation.  Roadway monitor's each closure to keep devices in proper position, assist with ingress/egress from the work area, and flag pedestrians and vehicles to ensure a safe completion to the project. Set and leave closures are also available if desired.
Roadway Construction Service's ATSSA Certified Traffic Control Technicians and Supervisors will always be available to safely and correctly address all of your public right-of-way job site needs. Roadway offers emergency response and is available 24 hours a day, 365 days a year.