New lane opens the 57 freeway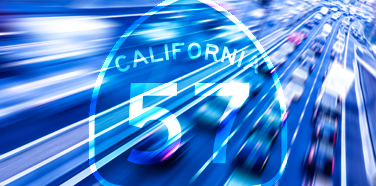 May 14, 2014 Irvine, Calif. – In a joint press release today, Caltrans and the Orange County Transportation Authority announced the completion of transportation improvements on the 57 Freeway that should make the daily commute easier in Orange County. After three years of construction, the improvements will also lessen vehicle emissions, and dampen freeway traffic noise along the new 5 mile long lane that opened today on the northbound 57 Freeway between Orangethorpe Ave. in Placentia and Lambert Rd. in Brea. The average daily traffic volume along this section of the 57 freeway can reach as high as 150,000 vehicles in the northbound direction.
The  project was primarily funded  from Proposition 1B, a voter-approved bond passed in 2006. "The 57 freeway is a vital link for drivers in Orange County, and we at OCTA are thrilled to see this addition open," said OCTA chairman Shawn Nelson. "We're putting Measure M money to good use by easing congestion and helping drivers get where they need to go more quickly." No doubt, Orange County commuters are happy to see the completion of this highway improvement project.