Pedestrian Safety in the Work Zone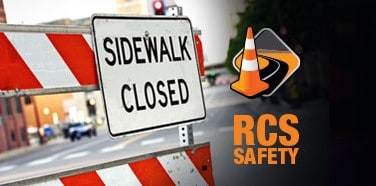 Pedestrian Safety & Protection
Work crews and pedestrians have one thing in common – both groups need the protection of traffic control services when a major project is underway. Fortunately, Roadway Construction Services (RCS) has made pedestrian safety a number one priority of its traffic control services.
When Does Pedestrian Safety Come Into Play?
During any number of projects. Common instances are when a special event is taking place, a crane or man lift is blocking a sidewalk, or a damaged sidewalk, curb, or gutter must be repaired.
The RCS Heroes
RCS flaggers and other traffic control safety crews must have eagle eyes and cat reflexes when protecting a steady stream of pedestrians, bicyclists, skateboarders, and random dogs. On their shoulders is the responsibility for seeing problems … before they develop. Obviously, only the most focused attention will do.
Adding to the challenging of maintaining pedestrian safety are the pedestrians themselves. Far too many don't pay attention or simply ignore signs and other warnings. Why refuse such sensible direction? As incredible as this sounds, these people regard warnings as an inconvenience not a safety measure. As a result, you'll find them walking through barrier tape, over cracked sidewalks, and too close to heavy machinery, often with ears plugged by a fashionable pair of Dr. Dre buds.
Safety crews do all they possibly can to keep these people out of harm's way. But there's only so much they legally can do. At some point, they just have to throw up their hands, roll their eyes, and hope for the best. Fortunately, most people do heed the warnings. And when they see a crane swinging tons of metal over a sidewalk, they know to keep their distance.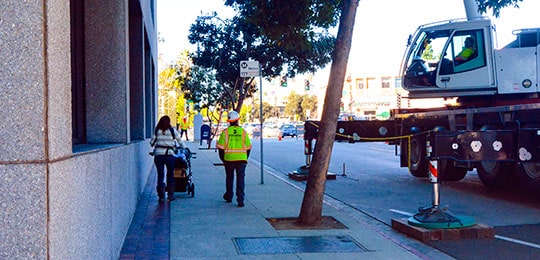 Planning and Implementation
Along with keeping an eye on pedestrians, RCS crews plan and implement the full range of safety measures. This includes setting up k-rails, closing or moving sidewalks, providing alternate access to various buildings, creating safe paths that enable pedestrians to get through or around work areas, and establishing entry and exit points. Providing traffic control services for pedestrians is just one way RCS helps maximize the safety of your project. If you're interested in learning more about our unsurpassed pedestrian safety services, contact RCS today. You'll soon discover why we're the go-to traffic control service in Los Angeles and all of Southern California.