Caltrans Maintenance – Explosive Boulder Removal!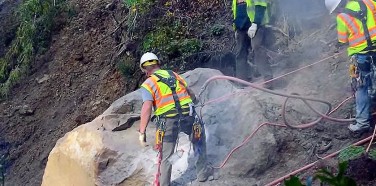 California Department of Transportation
Date: Feburary 6, 2015
District: Headquarters – Sacramento
Contact:  Tamie McGowen
Phone:  (916) 657-5060
Watch Caltrans' Explosive Boulder Removal!
CRESCENT CITY – Watch Caltrans' latest News Flash video for a behind-the-scenes look at Caltrans Maintenance and Special Crews' work to remove a rock hazard from above U.S. Highway 101 in Del Norte County. Caltrans Maintenance identified the boulder as a hazard after December winter weather events eroded the hillside enough to expose the car-sized rock. Caltrans worked with California State Parks to monitor the boulder's status until a certified Caltrans blasting crew could respond and remove it in January.

Run time: 2:00 http://youtu.be/yCBFEnNBJYw
This is the 16th in a series of Caltrans News Flash videos that present the wide-ranging and critical work Caltrans does to keep California moving. To see more of these and other videos, search for #CaltransNewsFlash on Twitter or go to www.youtube.com/user/CaltransVideo.
Motorists can get information on specific highway conditions from the Caltrans QuickMap at http://quickmap.dot.ca.gov or by telephone at 1-800-427-ROAD (7623).