Construction Zone Traffic Safety Service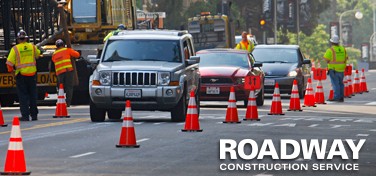 It seems there's a construction, maintenance, or utility project on every Southern California corner. To keep things smooth and safe around these construction zones, Roadway Construction Services (RCS) provides a unique brand of traffic safety service.
Our traffic safety service for construction zones meets the requirements of busy Southern California. At any given time, thousands of vehicles travel the state's roadways. On the best of days, getting from here to there is a challenge. When construction zones enter the picture, the challenge doubles. Without some control mechanism, traffic would be lucky to crawl. RCS provides that control, deploying highly-trained crews and proven strategies to keep things moving safely and efficiently. The result — motorists travel Southern California day or night without undue delays.

Traffic safety for construction zones involves a certain amount of planning, which includes the permitting process. Thanks to our long-established relationships with key decision-makers, RCS completes the permitting process in record-breaking time, every time. Which eliminates costly delays and saves your business substantial sums even before the project starts.
Not every construction zone project can be neatly planned, however. Sometimes the unexpected happens, requiring the implementation of emergency work zones. Fortunately, RCS traffic safety service is ideally suited for roadway emergencies.
When emergency circumstances arise in Southern California, rapid response is crucial. From burst water pipes to power outages, sudden disruptions are surefire traffic-snares. And with every passing second, the snarls get worse, causing costly delays that can stretch for miles. The price tag for these bottlenecks adds up quickly. So does the frustration level of motorists. When these tight situations arise, SoCal can depend on RCS for prompt 24/7 emergency traffic control services. As in, we're there yesterday.
To assure prompt response, RCS staffs its control center with live personnel trained to handle all help calls and route them to our emergency team for immediate action. Don't worry about getting through. We never use pre-recorded messages or answering services. When you call RCS, you get RCS.
If you'd like to learn more about our acclaimed traffic safety service for construction zones, contact RCS today. You'll discover one more reason why we're the go-to traffic control service in Los Angeles, Orange County, Ventura County, and all of Southern California.