What's Different About the RCS Difference?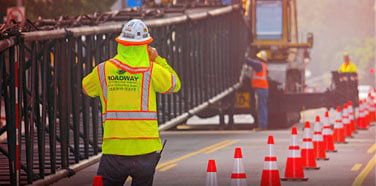 Traffic Control Experts in Los Angeles

Almost every company says it — We're different! But are they? A closer look generally reveals these companies are essentially clones of each other. Same management policies. Same limited involvement with clients. If company names weren't different, people would find it virtually impossible to tell most of the players apart. That's definitely not the case with traffic control experts Roadway Construction Service (RCS).
When RCS claims they're different, they really mean it. And they can back it up.
Their level of involvement says it all. No traffic control project was ever completed overnight. Weeks and even months may pass before all pieces are in place. A million details must be digested and dealt with – planning, permits, operations. From the very beginning, RCS experts are right there in the thick of things, working one-on-one with city officials and management personnel to get the process moving at a brisk clip … and keep it moving until the last traffic cone is removed from the roadway.
No One Way Street
Communication is the key to the success of this high-involvement approach. No matter how complicated or simple an issue, the RCS team makes a point of listening to and exchanging ideas with everyone involved. This two-way street not only builds immense trust, it sets the stage for getting things done – quickly and thoroughly. No problem is too big when all players are in sync.
Would you like to see what the RCS difference can mean for your project? Their experts have the expertise, experience, and knowledge to adapt and respond to even the most challenging demands of traffic control.
Contact Roadway Construction Service, the traffic control experts in Los Angeles,  to learn more about why they set the gold standard for customer service, planning, and permitting in the traffic control industry.
Call us!  855.919.SAFE (7233)