Roadway Traffic Barricades Maximize Safety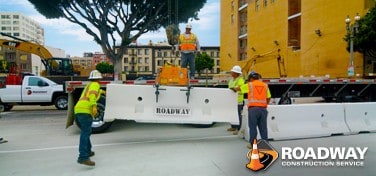 Construction zones often require single or multiple lane closures in order to maintain safe conditions. But lane closures aren't just a matter of marking off a few paths. Required are clearly-visible construction zone barriers to keep travel routes safely separated from the action. RCS focuses a great deal of attention on the proper installation of these important barricades. It's all part of our ongoing commitment to the safety of motorists, pedestrians, and work crews.
K-Rail, the King of Traffic Control Barricades
Traffic control barricades can take a variety of forms, from Type 3 barricades to K-Rail. Out of this vast group, K-Rail is one of the most commonly used. Virtually every motorist has seen these construction zone barriers dividing traffic lanes.
K-Rail, however, does more than keep traffic out of closed lanes and other restricted zones. It also re-directs traffic and protects pedestrians, particularly in right of way areas. You might say this traffic control barricade performs a double-duty.
Sometimes K-Rail deployment throws an unusual challenge in our direction. This definitely was the case for a service RCS performed on behalf of Holland Construction. For that project, we had to set up a suitable construction zone barrier on super-congested La Brea Blvd. in Los Angeles. Our solution was an 8,000 pound-per-20-foot colossal K-Rail. Nothing got past that monster.
A Little Barrier Goes a Long Way
Size isn't always a factor when deploying traffic control barricades. Consider traffic control cones, for example. What they lack in mass they more than make up for in sheer visibility. Who could possibly miss these brightly-colored markers lining the highways of sunny California?
Traffic Control Services 24/7 Availability

Big or small, construction zone barricades definitely offer variety. But are they available at a variety of times? What if there's an urgent need at an odd hour? No worries with RCS at the helm. As with all our other services, we provide 24-hour emergency traffic control barricades for virtually all situations.
The Human Equation
Naturally, the human element plays an important role in the deployment of construction zone barriers. RCS traffic control flaggers, for instance, are indispensable for maximizing the protective powers of roadway barricades. Impeccably trained, our certified flaggers have the expertise to maintain a safe, orderly flow of motorists, pedestrians, and work crews. To accomplish this feat, they combine hawk-eyed attention to detail with a sophisticated signaling system that leaves no margin for error.
The permitting process brings another human dimension to the process of deploying traffic control barricades. For every project, the RCS permitting team must develop a comprehensive strategy acceptable to decision makers. An important component of each strategy is the deployment of traffic barriers. Which will be used? How many will be employed? Where will they be placed? These are just some of the questions that require satisfactory answers before permits are issued.
Working in our favor are knowledge, experience, and long-term relationships with key decision makers. By leveraging these advantages, the RCS permitting team cuts through the layers of red tape typically encountered by others. What invariably results are quick approvals that save clients a wealth of time and money.
To learn more about our deployment of traffic control barricades, contact RCS today. You'll discover why we're the go-to traffic control service in Los Angeles County, Orange County, Riverside County and all of Southern California.