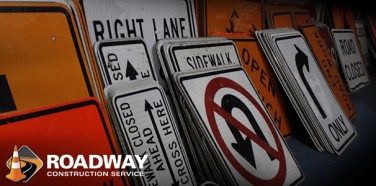 In the contemporary info-saturated world, communicating the right message is critically important. This is particularly true on the public highways. To provide the necessary messaging on the well-traveled highways, municipalities often deploy traffic control signs. Roadway Construction Service fully understands the importance of this type of signage. For this reason, we've developed a comprehensive program of traffic control signs rental to meet the wide-ranging needs of California's myriad roadways. If a message needs communicating, we'll provide the means.
Call: (855) 907-7233
Temporary traffic control signs are used in a variety of situations. Lane closures, detours, construction work, public events, and many other projects benefit from signage provided and deployed by Roadway Construction Service. And it's a good thing. Without this means of communication, safety would be severely compromised. That, of course, is something we could never allow. First and foremost, Roadway Construction Service stands for uncompromised safety for every project placed in our hands. Effective utilization of traffic control signs are one of the primary ways we ensure this safety.
Traffic Control Message Boards
What type of signage might we deploy? We have a variety of options at our disposal, depending on need and situation. Among the most frequently used types of roadway signage are traffic control message boards. When it comes right down to it, these really aren't boards at all. They are large, electronically controlled display screens that communicate messages in highly visible illuminated lettering. Traffic jams up ahead? These screens let motorists know in advance. They also communicate expected delay times, possible alternate routes, and any other pertinent information of interest to motorists. Naturally, the signs don't solve the problem. But they do make it as easy as possible to deal with.
What about specific situations? Which ones see the most sign usage? While there isn't one type of situation that predominates, construction zones certainly make abundant use of our traffic control signs for rent. To meet the varied needs of this industry, we offer and deploy a wide array of construction traffic control signs.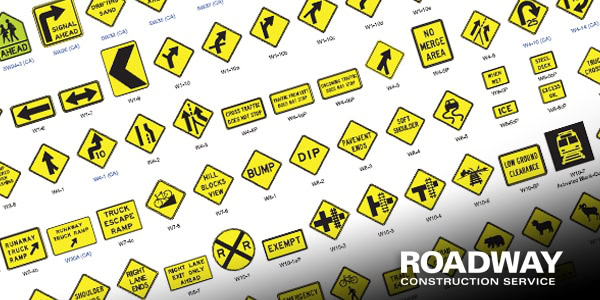 MUTCD Traffic Control Signs
As you might expect, there are traffic control signs for every situation and condition. For quick and easy reference, Roadway Construction Service maintains a traffic control signs list. For instant access, the signs on the list are arranged on a chart. Bear in mind, the listed signs aren't randomly chosen. All are MUTCD traffic control signs (PDF Opens IN New Window). As is known throughout the industry, MUTCD stands for 'manual of uniform traffic control devices'. This manual sets forth the standards governing the use of such devices on public highways.
But that's only the beginning. We wouldn't get much use out of the signs list unless we properly deployed them. Which is where our acclaimed expertise comes in. This expertise is the byproduct of various factors working in unison – experience, knowledge, and consummate skill honed and perfected through our proprietary training program.
Clearly, when you select Roadway Construction Service for traffic control signs rental, you're getting the very best. That's something you can count on, whether you need a rapid deployment of signage or any other proven solution in our extensive selection.