Traffic Control Specialist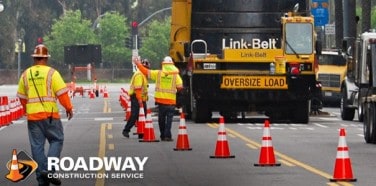 Where do you go for help when expert traffic control solutions are required? Where will you find the skill needed to get the job done right? Obviously, you'll want to look for an indisputably qualified, highly respected traffic control specialist. Well, here's the good news. You won't have to look any further than Roadway Construction Service when this need arises. With an acclaimed team of professionals bolstered by extensive experience, we're proven masters of our craft. Our track record speaks volumes about this claim, as do our many satisfied clients. Just ask them.
Call: (855) 907-7233
When you're an established traffic control specialist, you're covering a great deal of ground. Multiple solutions are called for in virtually any strategy. Therefore, many disciplines, all coordinated, are involved in the art and science of maintaining road traffic control. Take, for instance, the implementation of lane closures. Reducing the number of lanes may be necessary in a variety of situations, with construction projects being among the most common. Typically, a closure demands a combination of expert personnel and appropriate hardware.
The most common hardware utilized for in this instance is a set of traffic control barriers. These are available in a wide range of shapes and sizes. The smallest are traffic cones, whose main claim to fame is their visibility. On the opposite end of the spectrum are the largest of road barricades, k rail (or Jersey barrier). Depending on the situation, Roadway Construction Service may deploy one of two types of k rail. For long-term projects, concrete k rail invariably gets the call. Temporary projects, on the other hand, are capably assisted by water-filled k rails. Composed of plastic segments with hollow water chambers, these are comparatively easy to move, set up, and disassemble.

Traffic Control Barriers
Along with precision-selected hardware such as traffic control barriers, effective temporary traffic control requires expert personnel. Out in the field, this duty often falls on the shoulders of traffic control flaggers. At Roadway Construction Service, we consistently ensure all of our flaggers are well-prepared long before they spring into action. One of the most important aspects of the preparation process is our training program. During this phase, trainees are thoroughly educated in the finer points of maintaining order and safety in a variety of situations. When they emerge from this rigorous course of study, graduates are qualified by important certifications from prestigious organizations such as OSHA.
Expert personnel also play an important role behind the scenes, long before the action begins. Planners, for instance, are responsible for formulating deployment strategies, which focus on the hardware and the crews assigned to the field. They also deal with the acquisition of various traffic control permits. Among these are encroachment permits, which provide authorization for the use of public right-of-way areas during a traffic control project. A combination of incomparable skill and long-standing relationships with decision makers consistently expedites the acquisition process. Thankfully, this minimizes bureaucratic snarls and costly delays.
Given the outstanding credentials mentioned above, Roadway Construction Service clearly is a reliable resource when the optimum traffic control services are required. Rest assured, we're ready to help — whatever you need, whenever you need it.