Temporary Traffic Control and Traffic Control Plans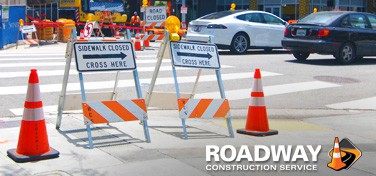 What if you're in charge of a public event or construction zone? Clearly, you must manage a great deal — including traffic and pedestrian flow in and around your assigned area. This calls for specialized expertise – the kind consistently provided by Roadway Construction Service. As one of California's premier traffic control companies, we offer the golden state ultimate protection with first-rate temporary traffic control and traffic control plans that ensure safety, success, and satisfaction.
Toll-Free: (855) 907-7233
Temporary traffic control and traffic control plans represent two sides of the same coin. You can't have one without the other. The plan sets the stage, while traffic control delivers the performance.
Traffic Control Plans
Let's look at our role as a traffic control planning company. Some say we've accomplished the impossible. We say anything is possible — so long as resources are properly applied. That's exactly what takes place in our strategy center. This is the launch point of all traffic control services – the place where great minds devise air-tight traffic control plans that assure ultimate safety and success. Nothing is overlooked during this arduous process. Weather, vehicular and pedestrian traffic, possible dangers, and a million other factors are evaluated by our resident strategists. All conclusions and discoveries are then incorporated into the finished plan. As a top-flight traffic control company, we rely on these plans to be well-prepared for any challenge.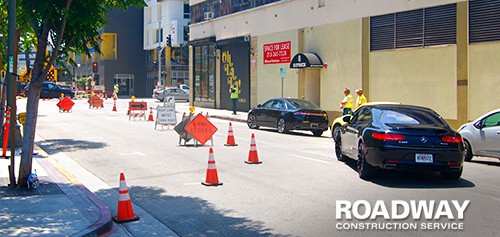 Road Barricades
Once a plan is formulated, Roadway Construction Service converts thought into action. On-site deployment depends on the successful coordination of two elements – hardware and people. In the hardware department, nothing is more crucial than road barricades. Available in a variety of sizes, these barriers separate pedestrians and vehicles from restricted areas – closed lanes are a common one.
Among traffic control barricades, K rail is the biggest and strongest. Also known as a Jersey wall, this barrier consists of interconnected modules that form a wall of any desired length. The modules can be made of solid concrete (for long-term or permanent projects) or water-filled plastic (temporary or short-term projects).
Road Traffic Control California
Safe and successful road traffic control also depends on capable people. At Roadway Construction Service, we are well-stocked with this valuable commodity. As mentioned, our traffic control planners are supreme experts of their craft. Fortunately, a similar expertise is exhibited by our on-site crew of flaggers. All are thoroughly trained and qualified by prestigious certifications, including those awarded by OSHA. Thanks to their training and education, our flaggers prove themselves to be expert responders and communicators, even in the most challenging situations. The result is consistently high marks in the area of roadside safety and efficiency.
Would you like to learn more about our temporary traffic control and traffic control plans? Reach out to Roadway Construction Service any time. We'll be happy to provide additional information and answers to all your questions.