Orange County Road Closures Expertly Handled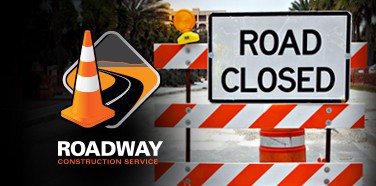 Things can get tight on the roads of Orange County, especially during rush hour. But the situation becomes considerably more intense when a street or boulevard must be closed. During these shutdowns, extraordinary expertise is required to ensure traffic flows as smoothly as possible. Roadway Construction Service (RCS) consistently provides that expertise to the county.
Experienced in all aspects of traffic control for road closures and detours, RCS often is called upon in these critical situations. Last year, for instance, a pipe burst at a Newport Beach pump station. Water gushed in every direction, quickly flooding streets and impeding traffic flow. Needing to rush repair equipment into the problem zone, The City called on RCS to manage traffic control.
The RCS Emergency Response team jumped right in, working out an air-tight traffic control strategy for the flooded area. Once the pieces were in place, RCS deployed appropriate crews to carry out the mission. Thanks to their extraordinarily quick response, repair trucks were rushing equipment to the pump station within an hour!
As repair trucks raced to the scene, RCS carried out Phase 2 of its emergency response plan: traffic control. During this stage, crews handled the closure of various lanes and roads in order to maintain free access for repair trucks. RCS also managed the closure of a ramp at Pacific Coast Highway, a major channel leading in and out of the Newport Beach.
But vehicle traffic wasn't the only challenge facing RCS. A steady flow of pedestrian traffic was heading to and from the nearby beach. Alongside many of them were their ever-faithful dogs. Now throw in assorted bicyclists, and you have quite a throng to contend with.
To keep the situation under control, RCS deployed their expert flaggers at key points along the travel route. The flaggers performed their customary balancing act, communicating to passersby as well as to each other with hand signals and varying flag positions.
This was by no means a one-day affair. RCS was on the job for the entire two-week repair period. During this stretch, their team kept the situation well under control.
RCS repeatedly has proven itself when Orange County road closures demand the very best in traffic control. If you're interested in learning more, contact RCS for a complimentary consultation. You'll discover why they're the go-to service for traffic control in Orange County and all of Southern California.