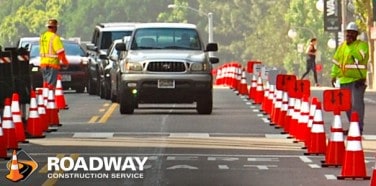 When traffic flow gets disrupted or construction takes place in densely populated city, safety becomes the area's number one priority. To ensure the requisite level of safety, the affected region needs the responsive intervention of a reliable traffic control agency. Look no further — Roadway Construction Service is that agency. And we have been for many years.
Call: (855) 907-7233
Just take a glance at our track record. This alone speaks volumes about the exceptional job we do – before, during, and even after every project we accept. No question about it. We enjoy an outstanding reputation. But don't worry — we're not resting on our many laurels. Each day, we strive to climb higher – to better ourselves and the important job we do. So far, we're pleased to say, we're succeeding admirably in this endeavor.
When our traffic control agency tackles a job, our first consideration is the safety of everyone in and around the work area. For this, we focus on both work crews and the general public. The latter encompasses all forms of nearby travelers – primarily pedestrians, bicyclists, and motorists.
Traffic Control Flaggers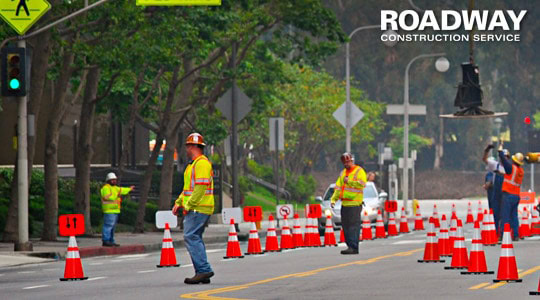 Roadway Construction Services is helped in our efforts by a group of dedicated experts, who are sometimes known as 'lollipop men'. No these people aren't handing out delectable sweets to crews and passersby. This nickname has been given to the masters of traffic control known as flaggers, who hold round 'lollipop' signs warning nearby traffic of possible risks and hazards. Given the importance of these dedicated professionals, Roadway Construction Service has developed a first-rate program of licensed traffic flaggers for hire. We like to think they're the very best in the business.
Complementing the field work performed by our flagger team is the system of protective barriers we routinely deploy through our acclaimed road barrier rental program. Ranging from compact traffic cones to wall-like k rail, these barricades are indispensable for keeping pedestrians and vehicles out of restricted areas.
Road Traffic Control
Of course, the job of a reliable agency for traffic control begins long before equipment and flagger crews are deployed. During this early stage, we deal with myriad preliminaries and preparatory details so necessary for successful implementation of any road traffic control strategy. This includes coordinating our efforts with various decision makers such as road authorities, municipal councils, and private individuals. It's not always easy. In fact, the task typically is fraught with challenges. But somehow we always manage to get it right, thanks to a combination of knowledge, experience, and dedication.
As versatile traffic control contractors, Roadway Construction Service handles a full range of assignments. Are you involved with a long-term construction job? No problem. Our long list of qualifications make us the perfect construction traffic management agency for your project. Is there a set of burst pipes flooding local roadways? Yes, Roadway Construction Service will jump in when such emergencies catch you off guard. We do it all the time.
You might say we're the traffic management agency that does it all. And you'd certainly be correct. That's us – Roadway Construction Service – ready to help, no matter what your need or situation. What more could you expect from Southern California's premier traffic control agency?