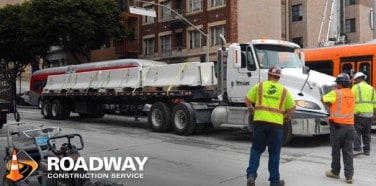 During any traffic control project, maintaining safety is a major challenge. For this goal, a variety of solutions can be implemented. Roadway Construction Service offers a solid selection of these solutions through our program of crash barrier rentals. Whether large, small, or in between, the barriers we supply are unfailingly reliable. That's because they are deployed with uncommon care and precision, the result of three notable qualities that define our company – skill, experience, and dedication. These components of success are central to everything we do.
Call: (855) 907-7233
Our program of crash barrier rentals relies on the perfect interconnection between personnel and hardware. Both are equally important, and both must be deployed with the utmost precision to ensure the effectiveness of our work zone traffic safety services. When deployed, these crucial components always meet the exceedingly high safety standards we've established for our system of road traffic control. Safety is and always has been a priority at Roadway Construction Service. Thanks to our commitment to this priority, everyone in or near a work zone is always well protected. This includes crews, pedestrians, motorists, bicyclists, and yes, even household pets strolling with their owners.
Traffic Safety Barricades
The skillful deployment of traffic safety barricades is essential to our unique system. This is the hardware that keeps vehicles where they're supposed to be, safely out of restricted lanes and areas. What's unique about these barricades is their variety. Some are compact, the most well-known example being traffic cones. The main advantage of the cone is its visibility, a characteristic ensured by its signature fluorescent coating. These barriers, however, are not quite the go-to choice when a situation calls for strength and sturdiness – something that effectively can block vehicles from unintended encroachments. That job calls for k rail (also known as Jersey barrier).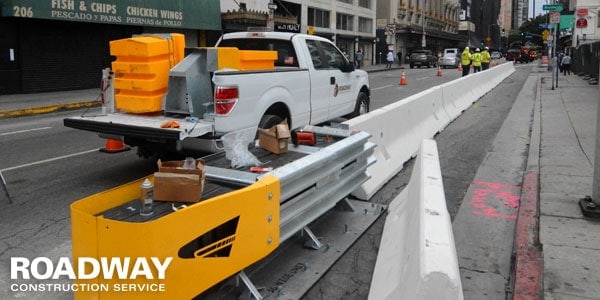 K Rail Rental Services
Fortunately, Roadway Construction Service offers k rail rental services that are second to none. Among traffic control barriers, the wall-like k rail is the biggest and strongest. Strength isn't its only feature, however. Jersey barriers are also versatile. That's because our team can deploy two different types, depending on job parameters.
For longer duration projects, concrete k rail gets the call. In contrast, water-filled plastic k rail is more suitable for short-term jobs. Its inherent lightness makes this type comparatively easy to move, assemble, and disassemble.
Thankfully, we have an outstanding k rail management team to rely on. Employing considerable talents, they ensure accurate and efficient deployments of Jersey barriers for a wide spectrum of traffic control projects.
Traffic Control Planning
Team excellence also is starkly evident in our planning department. Masters of traffic control planning, the members of this team know and understand the codes and regulations applicable to a full range of Southern California municipalities. Their knowledge lays the foundation for precision traffic control plans that meet the stringent requirement of local decision makers. Also helpful is their long-standing professional relationships with these important people. Thanks to this unique connection, our team knows what they expect and consistently delivers it in the form of airtight plans.
Clearly, there's much more to crash barrier rentals than barriers. Along with hardware, first-rate personnel are required to provide everything from responsive customer service to precision deployments. Thankfully, Roadway Construction Service has these important assets and the ability to use them as a foundation for incomparable service.