Road Traffic Management for Special Events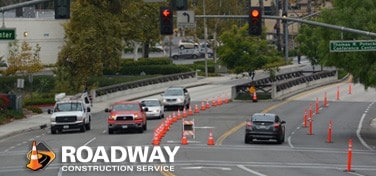 Strike up the band and break out the refreshments. Fourth of July is just around the corner. And that means major celebrating. It also means plenty of people and traffic. For that challenge, there's Roadway Construction Service. Acclaimed throughout Southern California, we provide special events traffic management on an unparalleled scale. From temporary road barriers (such as k rail, delineators, and cones) to traffic flaggers, our range of solutions is unmatched.
Toll-Free: (855) 907-7233
When supplying temporary traffic control for a special event, we focus on many areas. One of the most critical is road closure. Often, road access is forbidden because of prior commitments. In the case of July 4th (and other holidays), the road may be a designated parade route. Controlling traffic in and around such an area is crucial.
Traffic, however, involves more than motorists. Multitudes of event-going people also qualify as traffic. Consequently, their movement and location must be carefully managed. To meet this challenge, we've developed a sophisticated system of pedestrian traffic control. As with traffic control services for drivers, those meant for foot-travelers meet our exceedingly high standards of safety and efficiency.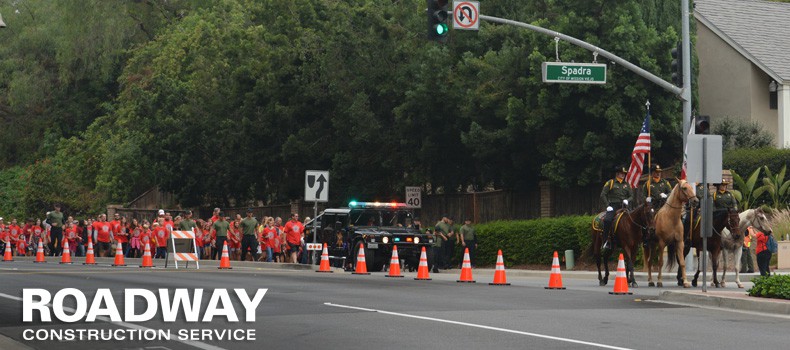 Sometimes, special event traffic control requires the closure of a single lane. On the surface, this sounds much simpler than sealing off an entire length of the road. Nevertheless, a great deal of thought and planning goes into lane closure.
Road Traffic Control
Much of our thought and planning takes place during the preparatory stage. That's right. Long before the parades march and skyrockets soar, our experts convene to create a road traffic control blueprint. This is the master plan delineating precisely what resources will be used — and where they'll be placed. Possible resources include everything from barricades to on-site personnel. Given the number of considerations involved, the logistics are mind-boggling. But we manage to hit a home run every time.
While all the planning takes place, a special task force sets their sites on permit acquisition. Nothing budges until we secure all necessary traffic control permits. Adding to the challenge, every municipality has its own authorization policy.
Fortunately, our traffic control team consistently expedites the process. Thanks to long-established relationships, we know many of the key municipal decision makers. Consequently, we also know their expectations. This familiarity enables us to anticipate and fulfill their requirements well in advance. While others might take weeks to secure authorizations, such as encroachment permits, we'll likely wrap it up in days … if not less.
Naturally, Roadway Construction Service isn't limited to traffic control for special events. After all, there are only so many holiday parades to manage. Therefore, we cover a wide range of needs, one of the most common being construction site traffic control. Yes, we really get around, so you can, too.