Road Traffic Safety Services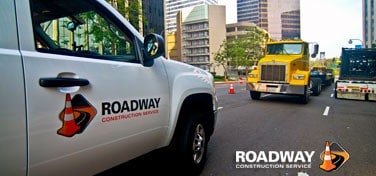 The roads of any city can be a challenge on the best of days. There are thousands of drivers on the road at any one time, all moving and all proving significant risk for the unprepared. Whether it's for the purposes of work zone safety, a special event, or something else, road traffic control has to be taken seriously. The aims of our road traffic safety services are to minimize risk and keep things moving as smoothly as possible. Here, we'll take a closer look at how we can help you achieve that.
We work to your needs
Call Now: (855) 907-7233
All our road traffic safety services begin with an in-depth preparatory stage. We map out the area you need to work in and factor in as many variables as we can. From the anticipated volume of traffic to weather conditions, we consider the risk factors so we can provide the appropriate measures. Then, from temporary road barriers to traffic message boards, we provide the tools your team need to stay safe while keeping traffic flow as smooth as possible.
Experts in all kinds of traffic control
We offer both permanent and temporary traffic control. For work zone safety, for instance, you might need to ensure that not only will vehicles get in the way of the project and endanger your workers, you need pedestrian traffic control to ensure that people on foot won't get themselves hurt, as well.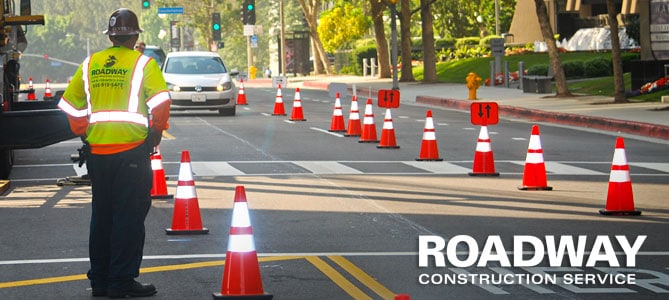 Our barrier installation and management services play a key role in street traffic control. Our services may also include the use of temporary traffic cones, lane closure, message boards, and a wide range of other safety devices.
Amongst the pedestrian traffic control services we offer, RCS has trained safety specialists to keep their eyes and ears open at all times. We also offer k-rail installation, closing or moving sidewalks, providing alternate access for pedestrians, establishing exit and entry points, and more. We'll apply and submit all necessary documentation and traffic control plans to obtain city encroachment permits, done right in a timely manner.
Safety devices and road barrier rental, installation, and management.
As part of our road traffic safety service, we can provide, install, and manage all kinds of different barriers and devices for whatever your needs are. Our barriers can protect your site from unwary intruders, whether on foot or on the road, preventing them from hurting themselves, damaging any property, or causing severe delays to your project. Amongst the different kinds of barriers that we offer are:
Traffic cones: Incredibly light and highly visible, these compact devices play a crucial role in redirecting traffic and providing early warning to pedestrians.
Traffic message boards: Customizable, highly visible lighted displays that make your project site easy for drivers to see and provide guidance to redirect and control the traffic.
Plastic road barricades: Lightweight, easy-to-move, quick to set-up, brightly colored and durable, making them perfect for short-term jobs that require quick control.
Water-filled k-rail: Light and easy to move when empty, but when they're filled with water they become immovable, suited for creating quick but extremely resilient barriers.
Concrete k-rail: Also known as jersey barriers, These barriers are amongst the strongest, used for separating traffic lanes, and are best suited for long-term projects or even permanent traffic control needs.
We work with you to establish what barriers you need and transport them directly to you, ensuring that installation is done correctly. Our services include the process of helping you choose based on your needs, such as the size, duration, and location of a project. We manage all barriers ourselves, so your team doesn't have to do the heavy lifting and can focus on the project, instead.
Traffic Flaggers on Demand
Though the barriers and other equipment we offer play an essential role in providing the road traffic safety services you demand, we suggest you never rely on the equipment alone. Whether it's a cyclist believing they can simply maneuver through your work site or event or a pedestrian who isn't looking where they are going, human intervention can go a long way to keeping everyone safe and stopping potential damage to the project site.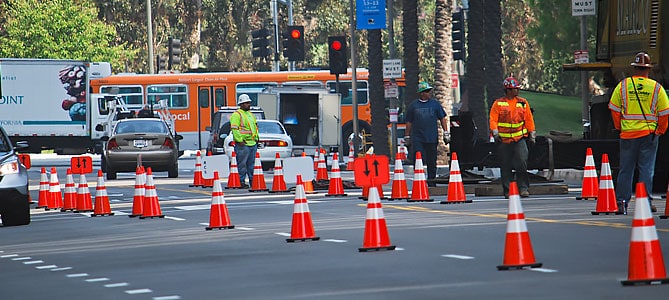 Our qualified work zone flaggers ensure the efficiency and the safety of your site with an intelligence that even the best equipment simply doesn't have. All our personnel are thoroughly trained and educated, getting their ATSSA certification to provide the quality of service our clients demand. These are intensive training courses establishing the highest level of competence.
For instance, when a lane closure is needed, they ensure everyone is properly located to ensure safety and efficiency, including offering guidance to vehicles, pedestrians, cyclists, and members of the work crew. They also work to ensure that any barriers used leave no gaps, coordinating their efforts with any of the safety devices in use on the site.
Cutting through the red tape
Whether it's ensuring the safety of a worksite or in providing special event traffic control, the encroachment permits you need can add a lot of hassle and seemingly unnecessary red tape. However, at RCS, we are experts in encroachment permits and can go through the process of acquiring them for you.
Without these permits, your work can't start. They have to be planned well in advance. However, inexperienced attempts at the acquisition of encroachment permits can add to your costs significantly and, if you're denied, they can delay your project or event even further. We have the resources, the knowledge, and the experience to ensure that you are supported every step of the way during the permit process.
Our services include help with the initial application submission, providing documentation such as traffic control plans. We can help during the review phase, the permit granting phase, and long after the permit is granted, we can make sure that you are fit to pass the on-site inspections.
Rely on RCS for your road traffic safety services
Whatever your project is, if you need help with road traffic safety, we can help you. If you're working in Los Angeles County, Orange County, Riverside County, San Bernardino County, Venture County, Kern County, or San Diego County, Road Construction Service is here to help.