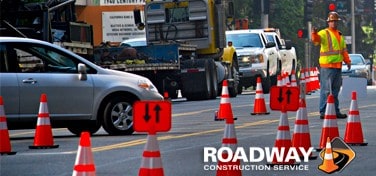 What defines an effective traffic control operation? Which elements ensure the necessary safety and efficiency of a work zone? While there are many correct answers, none would be worth a dime without the participation of qualified work zone flaggers. At Roadway Construction Service, we've gone to great lengths to develop these crucial members of our team. Thanks to their capabilities and dedication, we provide the highest standards of safety and efficiency on every job.
Toll-Free: (855) 907-7233
The development of effective work zone road traffic flaggers begins with training and education. We're proud to say that our team is expertly staffed by ATSSA certified flaggers. Meeting the rigorous standards of the American Traffic Safety Services Association, this certification requires intensive training to establish the highest level of competence. The training's foundation is in-depth course all candidates must take – and pass. This is not for the timid. Students spend weeks learning every aspect of flagging communications and safety before graduating to professional status. Once they do, they're full-fledged experts in their field – and ready for anything.
But we don't stop there. Believing you can never be too skilled, we require further training from prospective flaggers. Therefore, our team also must be qualified as OSHA work zone traffic safety certified flaggers. This means they've been taught by the very best – OSHA-approved instructors of the highest standards.
Work Zone Traffic Control Flaggers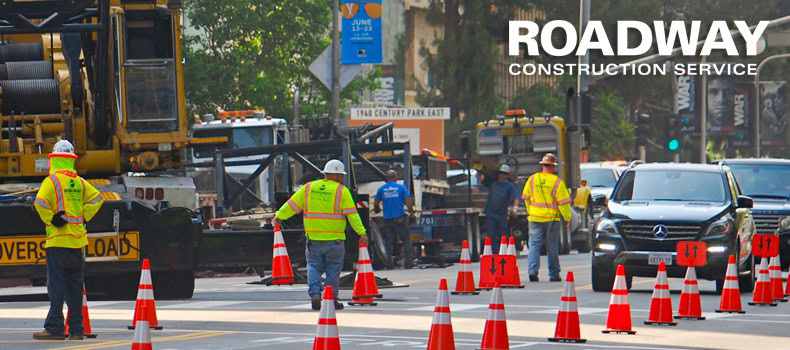 When Roadway Construction Service provides work zone road traffic control, expect much of that control to be in the hands of these proven experts. As you'll soon discover, they're extremely capable hands. Without exception, our flaggers instill confidence once they're on the job.
Flaggers contribute to work zone safety and traffic control services in many ways. One of these is the role they play when lane closure or multi-lane closure is required. During any work zone lane closure, these experts must ensure everyone and everything in the vicinity is safely located. With signals and flags, our flaggers offer necessary guidance to vehicles, pedestrians, bicyclists, work crews, and any other nearby person. Thanks to their skill and efforts, our road traffic management solutions provide the highest level of safety.
For every temporary traffic control project, our flagger team must work in sync with deployed work zone traffic barriers. This requires considerable planning. Barriers come in many forms. From high-visibility cones to massive k rail, each barricade has a specific function and place. Work zone flaggers must coordinate their efforts with the specific configuration of barriers. This, of course, varies with every project, requiring responsive adaptability from the flagger team. But don't worry in the least – they've been thoroughly trained for the mission.
Do you want the highest safety standards for your work zone? Roadway Construction Service provides a full array of solutions, including an acclaimed team of expert work zone flaggers.