Traffic Control Services Companies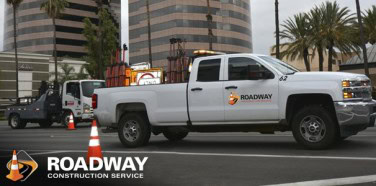 Among the many traffic control services companies, Roadway Construction Services stands as one of the most respected and reliable. This widespread opinion no doubt is the result of the quality performance we deliver on every project. Whether a traffic control project is big, small, or medium, we give it the highest level of attention and care. You can count on that. Now factor in our unparalleled skill, in depth knowledge, extensive experience, and above all, our commitment to safety, and you've got the makings of a premier road traffic control company.
Call: (855) 907-7233
The foundation of our traffic control services program is our planning department. Experts every one, our strategists strive for perfection on every project. We're pleased to say they consistently succeed thanks to two important factors. First, they have a firm grasp of municipal compliance requirements. Their deep understanding enables them to develop strategies that rigidly conform to existing regulations. This virtually eliminates the time-consuming delays so common in our industry. Plans are right on the money every time. As a result, wait times and associated stress are minimized.
Traffic Control Strategists
Also working in favor of our traffic control planners is their long-term working relationships with many of Southern California's municipal decision makers. Our team knows the expectations of these leaders, and therefore can meet these expectations promptly and responsively. Being in sync with this group of decision makers, our strategists generally receive approvals without the typical delays caused by bureaucratic snarls and reams of red tape. Again, the major benefit to our clients is a drastic reduction in wait time, allowing them to begin projects on time and on budget.
Road Traffic Management
A major consideration of any road traffic management plan is the type of traffic control equipment deployed for the project at hand. One of the most frequently used are traffic barriers. These indispensable barricades are available in a wide range of shapes and dimensions. Deciding which type to deploy is a demanding endeavor requiring careful evaluation of work site circumstances. Frequently selected to handle the largest jobs is k rail. Essentially a wall, k rail (or Jersey barrier) has one primary function – to keep traffic out of unauthorized areas. When it comes to ensuring safety, k rail is one of our key assets. Given its importance, we've developed an unsurpassed program of k rail rental flexible enough to accommodate a full spectrum of projects.
Traffic Control Equipment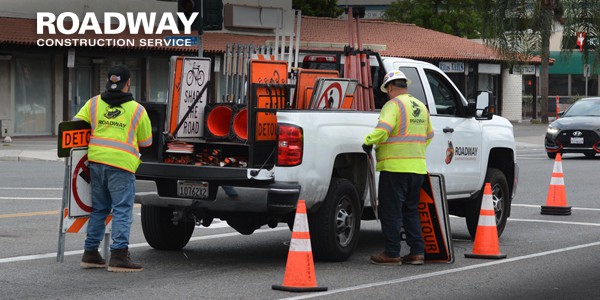 Along with choosing the proper traffic control equipment, Roadway Construction Service also must select the right team of field personnel to maximize safety. Among the members of this team are traffic flaggers. Communicating with flag signals, they are integral to our traffic management services. While they handle a variety of duties, one of their most vital roles is maintaining safety during a road closure. Without their skill and responsiveness, effective road closure management would be impossible. Luckily, we have a team of superbly trained flaggers that can get the job done with flying colors.
Do we service your area? It's a natural question. And one we can proudly answer in the affirmative. We offer Los Angeles traffic control services, Orange County traffic control Services, Riverside County traffic control services, and San Bernardino traffic control services. And when there's a crane on the job, we offer first-rate California crane traffic control services throughout the region. Truly full coverage at its finest!