Traffic Control Equipment Services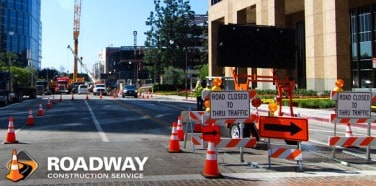 There's traffic control equipment. And then there are the exceptional solutions provided by Roadway Construction Service. That's right. Not all equipment is the same; some of it simply shines brighter than the rest while on the job. Traffic just seems to flow more efficiently when it's deployed. That's because it's not all about hardware. Different variables enter the picture during the process of equipment selection. Hardware quality is only one variable. The other variables pertain to the decisions made regarding important questions. Is this the right equipment? Are there more cost-effective options available? What are the right configurations given road conditions? These and many similar questions must be answered with unfailing precision. If they aren't, all the first-rate hardware in the world will make a big difference.
Call: (855) 907-7233
Roadway Construction Service understands the importance of addressing every variable; ensuring that everything in the field works in sync. Often, for instance, we'll be selected to service a busy work zone. Always a major challenge, primarily because work zone traffic control equipment must offer such wide-reaching protection. If crews were the only factor involved, the ensuring of safety and efficiently would be a monumental feat. But they're not the only factor. Pedestrians, motorists, bicyclists, and even pets might very well be in the vicinity. The selection of traffic control equipment, therefore, must be precise enough to cover all these variables – and cover it in a fluid situation that may be changing by the minute, depending on conditions. At Roadway Construction Service, anything less simply is unacceptable.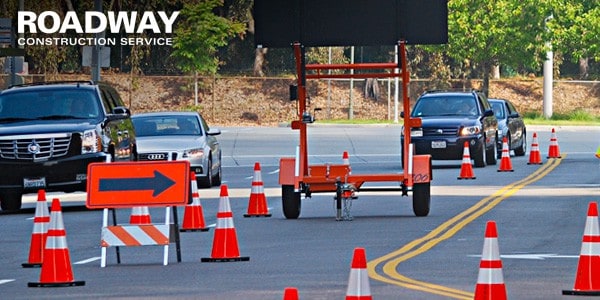 OK, here's one of our secrets – we actually rehearse this little drama long in advance. No, we don't lug equipment to the work zone and go through a trial run. That move more or less would obliterate the bulk of our cost-efficiency goals. Instead, we engage in a productive process known as traffic control planning – the first stage in the deployment of traffic control equipment. During this critical time, out strategists put their collective noses to the grindstone, poring over details, making projections, and identifying needed permits. They also invest some quality time reaching out to decision makers, whom they must satisfy with accurate, neatly-bundled plans. Only after these decision makers give their blessing is there a green light for the deployment of traffic control equipment.
Road Barriers
What type of equipment typically is deployed by Roadway Construction Service? The range is wide and varied. Hardware called to duty might be traffic cones, traffic delineators, and, of course, the larger variety of road barriers, including formidable k rail. In fact, k rail rental is one of our supreme specialties, an area we've perfected through years of rigorous development.
While equipment certainly is indisputably important, hardware alone won't get us across the finish line. Skillful personnel also are necessary to ensure traffic control success. Among this group is a road guardian known as a flagger. Thoroughly trained, our team of flaggers utilize unique communication skills to expand the protection of traffic control equipment and ensure the safest possible conditions.
Equipment Rental for Traffic Control
Roadway Construction Service clearly offers numerous advantages to those requiring equipment rental for traffic control. If you'd like to schedule traffic control services and equipment, we're ready to help. Call us to request a quote for traffic control, as well as any information you might need.