Temporary Traffic Management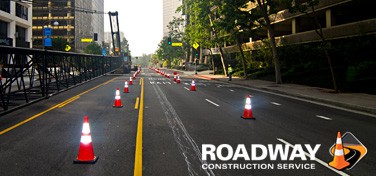 Temporary traffic management… it's a phrase that can conjure up many possible images. Some people see it as skilled personnel, such as traffic flaggers deployed in the field. Others envision high-visibility devices and equipment such as the mighty k rail. Still another group may see skilled strategists engaged in rigorous traffic control planning. Roadway Construction Service sees all of the above. But because we're in the business of road traffic control, we not only envision it; we put it skillfully into practice. That means 24/7, day or night, we're ready to deliver the industry's most reliable temporary traffic control.
Toll Free: (855) 907-7233
Road traffic management is a balancing act consisting of numerous pieces in the puzzle. Some of the pieces may be on the compact side. Take for instance one of the most common sites in or around construction work zones or special events – cones. Not exactly the biggest in the bunch. But what these traffic devices lack in size, they more than make up for with natural ability. You might say the speak loudly without saying a word. Credit their bright coloring – the most common hue being orange. Hard to miss these attention-getting traffic devices, even from a long distance. Yes, high visibility gives them a mighty big edge.

Naturally, certain occasions call for protection of a larger sort. For these challenging tasks, nothing surpasses k rail rental (or as this traffic barrier is sometimes called Jersey Barrier). Aptly named, Jersey wall is a large, solid barrier spanning a great length. Hence, the term 'wall' – essentially, that's what it is. Given its dimensions, Jersey wall is utilized primarily as a rock-solid traffic barrier. Its main function is the prevention of vehicular intrusion into unauthorized areas.
Jersey barrier offers two handy options for us traffic management specialists. Depending on the situation, our team may implement concrete k rail or plastic, water-filled k rail. The former generally is used for long-term projects, while water-filled Jersey barrier is ideal for temporary traffic control assignments –assembly and disassembly with relative ease.
When implementing temporary traffic control solutions, people naturally are a number one priority. For our purposes, this group includes motorists, pedestrians, bicyclists, and work crews. To maintain uninterrupted protection of this group, we've developed a comprehensive system of vehicular traffic management coordinated flawlessly with pedestrian traffic management. Under the watchful eye of experts such as traffic flaggers, Roadway Construction Service affords maximum safety to anyone in or near a work zone or public event. Slipups and gaps? Not on our watch.
Would you like to learn more about the effectiveness of our temporary traffic management? Reach out to Roadway Construction Service any time. We'll be happy to provide additional information and answers to all your questions.