Traffic Message Board Rental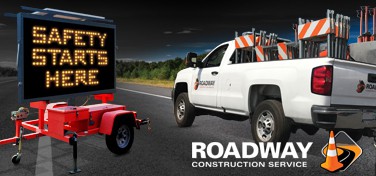 When managing a job that requires road traffic control, giving people the necessary information needs to be a top priority. The correct signage tells drivers, as well as others on the road and even pedestrians, what is happening and where they need to go. Traffic message boards are a vital tool for controlling traffic and keeping everyone informed. However, you don't need to buy them if you have a need for them. This is where traffic control equipment rental comes in, helping you access what you need for only a short period. Renting traffic message boards will save you money and help your project to stay organized.
Toll Free: (855) 907-7233
At Roadway Construction Service, we're passionate about keeping everyone safe during road construction, events, and any other occasion when traffic might need to be redirected. Our up-to-date equipment is available to meet the needs of any road traffic management project. Together with our traffic management personnel and our various equipment, such as k rail barricades and cones, our mobile traffic message boards make it easy to control any situation, including both planned and emergency occasions.
Choose Roadway Construction Service for Traffic Message Board Rental
Anyone looking for traffic management in California can count on Roadway Construction Service to meet their needs. As well as providing any equipment that you might need, from message boards to Jersey barriers, we have a staff of well-trained and experienced people who can help to make you traffic event go smoothly. We don't just provide the equipment and the people that you need, but we can also help with strategy and planning so that every part of the road traffic control you need is taken care of.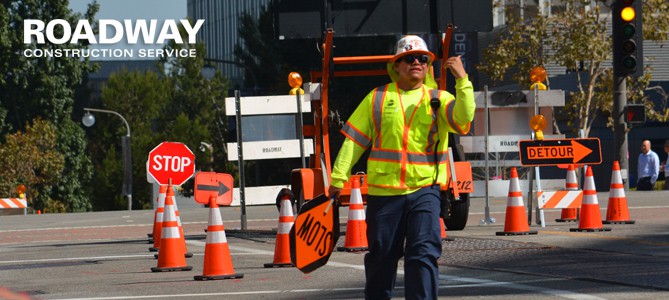 Customizable, Visible lighted Displays
Traffic message boards are the ideal tool for road traffic management projects. They allow for any message to be broadcast in whichever locations are most convenient for lane closures, road closures, and various other purposes. Traffic message boards can display messages such as 'lane closed', 'detours ahead', 'stop' or any other text that you need to direct and warn drivers, bikers, cyclists, pedestrians and anyone else. Traffic message boards use LED displays so that they are highly visible, and can be positioned in a number of ways. You might require them to be positioned overhead so that they are visible from far away, or perhaps on the road or sidewalk for smaller roads to provide information up close.
Arrow Boards
Arrow boards are another option if you require clear signage for your traffic control. These signs are a more simple choice if you need to tell people where to go with simple directional arrows. However, they can sometimes allow for the direction of the arrow to be changed with the use of LED lights. Others are simply arrow graphics that can be positioned to your liking, as well as lit up to make them more visible during both the day and at night. Arrow boards can be used on their own, but are also useful when combined with message boards to provide more information to people on and off the road.
Uses for Signs
Message board rental can prove useful for a range of situations. Their bright displays and customizable messages help to notify anyone of the current road conditions, from work being carried on ahead to any diversions. Variable message signs can give warnings about congestion, any special events that could cause heavy traffic, accidents, and speed limits. Although message board rental is ideal for temporary changes, they are also a good choice to install more permanently. The ability to change the message means that they can be altered as road conditions change and positioned in the most useful and convenient locations.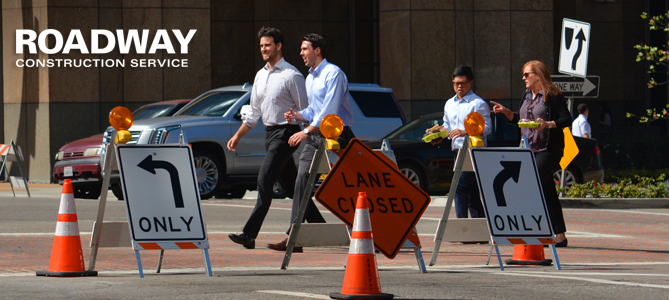 Traffic Safety Flaggers
The correct equipment for vehicle and pedestrian traffic control is important, but it is also extremely useful to have the correct people onboard too. At Roadway Construction Service, our traffic flaggers are perfect to have working alongside a comprehensive traffic management equipment setup. All of our traffic control flaggers are highly trained to carry out their work safely and efficiently. They are trained to communicate clearly, both verbally and using hand signals and body language, to manage traffic effectively and ensure optimum safety for all, including drivers, bicyclists, pedestrians, and more.
Our traffic flaggers are trained to the highest standards so that they can deliver the highest standards. If you need to rent traffic message boards for any purpose, our team of strategists can help by working out a plan that includes traffic flaggers and any other equipment that you might need. With just one traffic control service provider, you can take care of everything to ensure that any eventuality is covered.
Organize Permits and Permissions
Here at Roadway Construction Service, we can also help to organize any permits or permissions that you might require. If you need to secure permission to close a road, set up a diversion or carry out any work, our team will arrange everything for you. It's essential to have the correct permissions for altering the flow of traffic or affecting traffic on the roads in any way. Securing all the necessary encroachment permits requires a solid traffic management plan so that everything is ready to go when you need it to be. Our experienced team will make sure that there are no delays and that everything is in place when you're ready to begin.
Hire Other Road Safety Equipment
Don't forget about any other traffic management equipment that you might require for your project. This can include Jersey barriers both plastic water filled and concrete, traffic cones, traffic barricades, and more. There's no need to look at more than one service for all of your temporary traffic management needs. Rent all of the equipment that you might need from one place, and get the people power you need, along with planning and management too. Whatever your needs are, Roadway Construction Service can help you.
Get in touch with Roadway Construction Service about traffic message board rental or any other traffic management requirements in California.