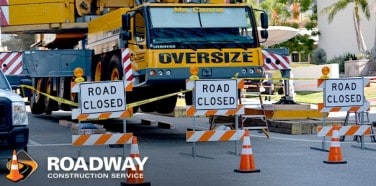 At Roadway Construction Service, our traffic control operations don't begin at busy construction sites, or on community streets being used for special events. No, their origins can be found in our busy planning department. Within this beehive of activity, every fine detail and bit of preparatory work must be analyzed, ironed out, and formalized into an airtight strategy. One of the components of each strategy is the acquisition of permits. Among these authorizations is the street closure permit. These are necessary to meet the needs of certain occasions when streets must be closed temporarily. There's no fudging or workaround on this. This permit must be obtained, or the street cannot be closed. And if the streets don't close, no go-ahead on the project.
Call: (855) 907-7233
There are many moving parts in the process of obtaining a street closure permit. For example, there's the expertise of the strategists who develop the traffic control plans and proposals needed to obtain the authorizations. Roadway Construction is proud to say that our planners are second to none when it comes to understanding the regulations governing the deployment of traffic control solutions. As a result, they know what's needed in every situation — well in advance. Therefore, they consistently deliver acceptable plans to decision makers. The number of revisions and rejections are greatly minimized, also minimizing costly delays. This is good news to clients who can pay a big price if schedules are disrupted.
Temporary Traffic Control Permits in California
What also helps facilitate the rapid acquisition of street closure permits is a special bond we enjoy with municipal decision makers. As it turns out, we have long-standing business relationships with a good number of these organizations. We've worked with them multiple times, and we know their expectations and understand their values. It goes with the territory. Consequently, when we present a request for a traffic control permit, all the little details will be covered to the decision maker's complete satisfaction. Rather than become ensnared in bureaucratic tangle, as easily can happen, we cut to the chase and consistently hit the target. Again, this is great for minimizing delays and helping clients adhere to work schedules.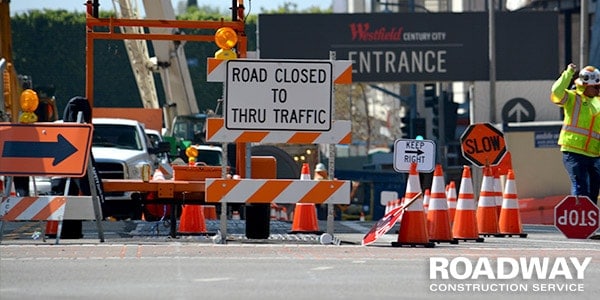 Dozens of situations might call for the acquisition of a temporary street closure permit. A typical one is that favorite of the general-public – a parade. Often during these events, Roadway Construction Service must close multiple roads to ensure public safety and unhampered progress for all parade participants. By the way, what must be closed, must be opened. So, when the parade ends and the crowd disperses, our crews have the responsibility for re-opening all affected roads. How and when we carry out this task is incorporated in every plan designed for the acquisition of a temporary street closure permit.
Southern California Street Closure Permits
Do all regions of Southern California require these authorizations from time to time? Pretty much. Which is why we're prepared to acquire any needed street closure permit in Los Angeles, street closure permit in Orange County, street closure permit in Riverside County, and street closure permit in San Bernardino County. But we can always add to the list.