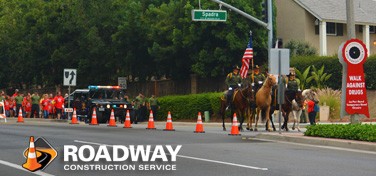 It won't be long. Spring is here. And that means summer is just around the corner. With those warmer months will be plenty of outdoor events. Sometimes those events will necessitate the closure of a street or streets. That, in turn, will require the acquisition of a street closure encroachment permits. Roadway Construction Service is your go-to resource when it comes to obtaining these crucial authorizations.
Call: (855) 907-7233
The street closure permit is something we're very familiar with. Credit our long experience with special event road closures (along with work zone road closures). Thanks to these years of service, we know the in and outs of the territory. Therefore, we understand exactly what it takes to secure the necessary authorizations.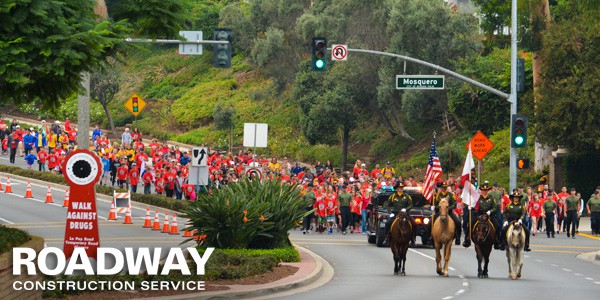 Securing road closure permits for special even road closures is a multi-dimensional mission. One dimension is that of our knowledge-base. This is vast. Over the years, our team has developed an in-depth understanding of the codes, regulations, and rules governing the process of road closure. They know which ones apply to a given situation and municipal region. Consequently, compliance is virtually assured.
In the other dimension is a community of municipal decision-makers. Having dealt with many of these leaders year after year, we've established important long-term relationships. Our team understands their expectations, needs, and goals. Combining this understanding with our knowledge-base, we consistently develop permit request applications that are readily accepted and approved. Yes, there's a lot to juggle when overseeing street closures. But by doing so, Roadway Construction Service demonstrates its unique expertise the area of temp street closure application management. Our record speaks for itself.
Street Closure Barriers
Along with codes and regulations, we must consider other factors when applying for a temporary street closure permit. One of these considerations is the deployment of traffic control devices. Typically, these include a variety of work zone barriers.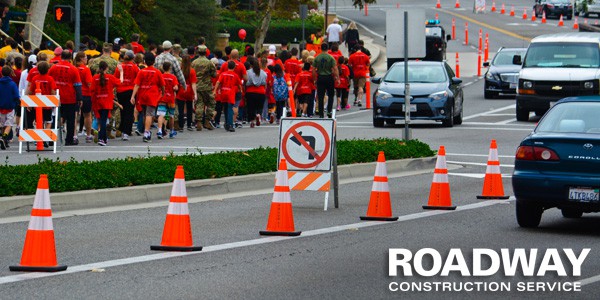 When it comes to barricades, we must look at every aspect of a work zone. For some areas, smaller road barricades, such as high-visibility cones, are right for the job. Other areas may demand something massive and strong like k rail. The decisions don't stop there. Our team still must determine which type of k rail rental (or Jersey barrier rental) should be deployed. There are two types available in our program of k rail rental (concrete and plastic water-filled). Concrete gets the call for long-term projects, while the lighter plastic type does the trick for temporary and short-term duty.
Traffic Control Flaggers
Also covered in an application for a street closure permit is the selection of traffic guards/flaggers. Roadway Construction Service is proud to say that our traffic control flaggers are tops in their field. One reason for this distinction is their thorough training. Each prospective flagger must pass a grueling training regimen. Graduates are awarded key certifications from organizations such as OSHA.
It's easy to see that Roadway Construction Service covers all the bases when it comes to street closure permit acquisition. As part of our California traffic control program, we handle all the permitting and application processes for clients. This expedites approvals and eliminates budget-draining delays and setbacks. Great news for any city facing the challenge of special event road closures.