Worksite Traffic Control Plans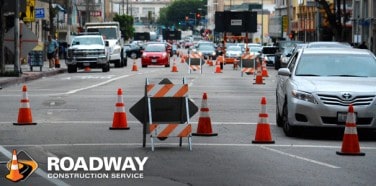 Southern California is a busy place made even busier by the astronomical amount of road work taking place. Day or night, something's getting repaired, modified, or built on or near the state's busy roads. But the rest of the community can't be put on pause. Motorists and pedestrians must keep moving, a reality that demands effective traffic control to keep work zones safe and trouble-free. Roadway Construction Service provides the needed traffic control services, reliably and responsively. Before we send our team into the field, however, we prepare for action. We do this by developing solid worksite traffic control plans.
Call: (855) 907-7233
Our worksite traffic control plans are created by experts in their field. A stickler for detail, they perform a juggling, keeping track of numerous variables that impact the effectiveness of worksite traffic control.
Worksite Safety Barriers
One of the first questions these experts must answer is – how will we keep motorists and pedestrians in the proper areas and lanes, safely away from hazard zones? One solution is the deployment of worksite safety barriers. Selecting the right ones is no slam dunk. These worksite road barriers come in a wide range of sizes, shapes, materials, and even colors. Which ones go where is an issue they must resolve with unfailing precision.
It isn't just a matter of selecting the right category or types. For instance, our planners can choose from two types of k-rail (or Jersey barrier) – concrete or water-filled plastic. Proper selection requires a thorough understanding of the work zone and the prevailing conditions.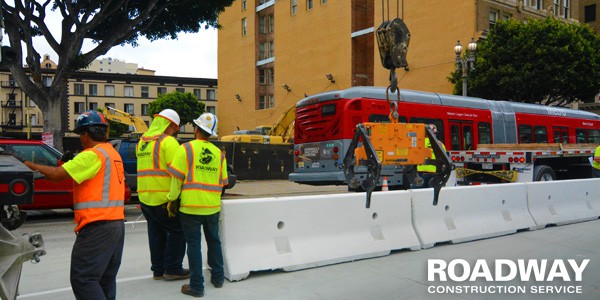 Worksite traffic barriers, of course, aren't limited to k-rail. Our team still must wade through all the other possibilities, including cones, A-frame barricades, delineators, signs, and much more.
Road Traffic Management
Planners also must consider the human side of road traffic management. That side is comprised of our traffic control flaggers. How will they be deployed and in what quantity are issues consistently dealt with by our team. Fortunately, the capabilities of these flaggers are never in doubt. All of them have been trained to the highest level and are qualified by the industry's most prestigious certifications. Among these are those selectively awarded by OSHA.
The development of our traffic control plans is facilitated by some very productive connections we enjoy. You see, Roadway Construction service has been involved with traffic control planning for many years. And during that time, we've established solid professional relationships with a wider range of municipal decision makers and business leaders. We, therefore, understand their needs and know their expectations. Basically, we're in sync. Ultimately, that means we consistently develop plans that are right on the money and therefore earn quick approvals during the traffic control permitting stage. This favorable situation contributes enormously to the efficiency of our traffic control management.
This management helps keep our busy streets smooth and safe. And it's a good thing. Construction projects seem to be everywhere. These will demand reliable construction traffic control management round the clock. Thankfully, Roadway Construction Service has mastered the art of construction traffic control planning. The resulting worksite traffic control plans are important first steps for maintaining steady traffic flow on the roads of SoCal.