Traffic Flagging Services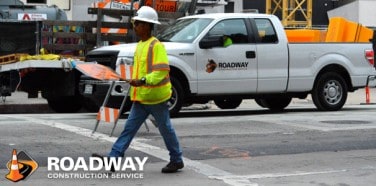 When you think of traffic control services, the focus often is on the more obvious trappings, such as barriers. True these are important components of any traffic control plan. But let's not overlook the immense value of another crucial component – traffic flaggers. Roadway Construction Service certainly doesn't. In fact, we've developed a comprehensive program of traffic flagging services to meet a variety of needs. The core of this program is our resident team of highly capable individuals – traffic flaggers. When it comes to maintaining control at a busy project site, these dedicated pros are without equal.
Call: (855) 907-7233
If seeking reliable traffic flaggers for hire, you won't be disappointed by what we can offer you. Roadway Construction Service is staffed by the very best. Ready, willing, and able describes them perfectly. This should come as no surprise. They've received the finest, most thorough training possible. Our training program is designed to develop a variety of crucial skill sets, as well as a keen awareness of potential hazards and other on-site risks. When they're on the job, these OSHA-certified experts are putting 110% into ensuring the safest possible conditions. Thanks to their first-rate judgment, they provide reliable protection to anyone and anything in the vicinity. This includes motorists, bicyclists, crews, pedestrians, and property.
Traffic Control Lane Closures
Don't worry about availability. Roadway Construction Service understands the importance of timeliness. You've got budgets and schedules to deal with, and even a few hours delay can take a significant bite out of the expense account. You'll be glad to know that we have capable teams of traffic control flaggers available now. Just contact us, and we'll arrange everything to your complete satisfaction.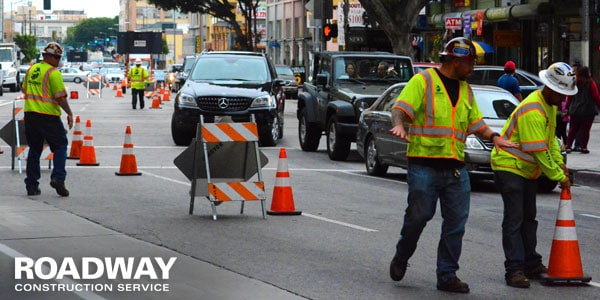 Traffic Control Planning
Before we deploy anyone, of course, we expend considerable thought on the matter. This entails serious planning. During this preparatory stage, our strategists analyze a proposed project and coordinate all the elements, including flaggers. We determine the number to be deployed and how they'll mesh with all the other crucial traffic control components.
The permitting process takes place while we're in the thick of planning. But we welcome the challenge and get right to work. To secure the necessary permits, we are required to develop a plan that meets the approval of municipal decision-makers. Such a plan must demonstrate that all the pieces, including flaggers, fall seamlessly into place.
Here, we demonstrate how the selected flaggers will facilitate the implementation of lane closures, detours, and other traffic-control solutions. Happily, we consistently deliver acceptable plans. Therefore, approvals are quick, and delays are greatly minimized.
Study any of our plans, and you'll see a comprehensive picture of the project at hand. It will reveal crucial details, such as how flaggers will be deployed — and how they will support other types of traffic control assets. Among these assets are traffic control barriers, which include everything from high-visibility cones and sturdy traffic control delineators to more massive barricades, such as k-rail (or Jersey barrier).
Our traffic control plans ensure all these elements are tightly coordinated, with traffic flaggers standing front and center as the people who hold it all together. Admittedly, it's quite an effort to pull this off. But thanks to our experience and knowledge, we consistently do so, thereby ensuring our traffic flagging services are second to none.