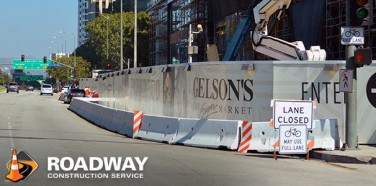 There's a whole lot taking place on the sunny streets of Southern California. Construction, special holiday events, and other activities keep the region extraordinarily busy. And with all that activity comes the urgent need to ensure reliable traffic control. Temporary barricades are one of the most important components utilized to achieve this goal. For this reason, Roadway Construction Service has developed a highly responsive program of barricade rental. Don't worry. We can handle any challenge – planned or unplanned. The solutions provided through this program cover a wide range of needs. Which is why it's no exaggeration to say we're ready for anything.
Call: (855) 907-7233
When designing a plan for Southern California traffic control, precision is paramount. Barricades, as with any other element, must be carefully chosen. That takes some doing. You see, not all road barricades are the same. Those deployed must align with specific needs and conditions. The safety of the area depends on us getting it right.
Different Types of Temporary Road Barricades
For convenience, barricades are divided into categories – three of them to be exact. They are Type I, Type II, and Type III, each division indicating a specific barricade function. When developing a traffic control strategy, these categories help guide our decision-making process.
Let's say our teams selects Type I traffic barricades for a job. In that case, the situation calls for swift setup and portability. Conveniently lightweight, these temporary barricades are recognizable by a single reflective panel. Intended primarily to protect people traveling on foot, these pedestrian barricades generally are deployed at public events such as parades.
Type II barricades, in contrast, have dual reflective panels, giving them even greater visibility when deployed. Typically, we deploy them on highways and roads to help protect traveling vehicles.
For the most demanding work, Roadway Construction Services selects Type III barricades. Larger and stronger than the other type, these typically are utilized to restrict access to closed roads.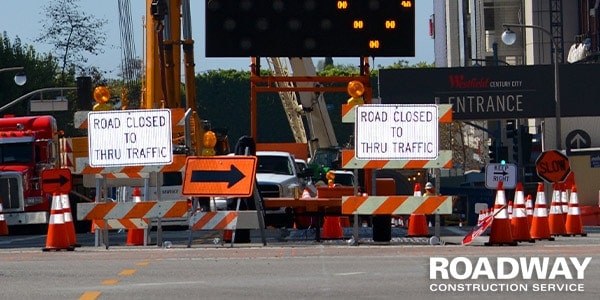 ADA barricade Services in California
Clearly, the selection of traffic barricades requires extensive planning. But choosing from the aforementioned categories is only part of the story. Many other factors come into play when designing strategies for temporary traffic control. For instance, if confronted with the challenge of protecting pedestrians, we often consider individuals with special requirements. ADA barricades are among the solutions we implement to address the safety needs of this group.
There's also the question of conforming to municipal codes when designing a traffic control plan. This can be a tricky area, as the codes can be quite complicated. On top of that, they're sometimes modified as needs and conditions evolve.
Fortunately, our team has the accumulated knowledge and far-reaching experience necessary to navigate the coding environment. The result? Consistently sound strategies readily approved by local decision makers. Basically, we get it right… right from the start. No going back to the drawing board. No delays. And most important of all, no disrupted schedules.
To further expedite matters, we have long-standing relationships with many of the municipal decision makers. We understand their needs and know what they expect. Consequently, we consistently tailor plans to match those expectations.
All these advantages, of course, lead to one inescapable conclusion. Roadway Construction Service is the optimum choice when temporary barricades are needed for your traffic control project. As with our other services, our barricade strategies consistently maximize safety, efficiency, and customer satisfaction. Just ask any of our clients.