Residential Traffic Control in California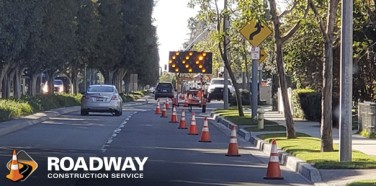 It's easy to envision a constant need for traffic control in busy urban areas. After all, these are the hubs of activity throughout the state. People might be surprised to learn, however, that heavy activity isn't necessarily limited to these regions. Frequently, residential areas require dependable residential traffic control to maintain safety and order in a variety of situations. To meet this need, Roadway Construction Service has perfected the art and science of residential traffic control in California. We have the tools, the knowhow, and a very firm commitment to quality necessary to ensure the best results on every project. It's what we've built our reputation on.
Call: (855) 907-7233
Often, road work is taking place in or near residential areas throughout Southern California. The good news is, our program of work zone traffic control is designed to make sure all this work is performed under our protective umbrella of maximum safety. We might, for instance, be tackling a lane closure. No problem. Roadway Construction Service constantly meets this challenge with its acclaimed system of lane closure management. Many solutions are routinely deployed in these situations, including an array of traffic control barriers. Carefully chosen by our traffic management team, each of these barriers has a special role to play. When maximum strength is called for, we'll protect the area with a deployment of wall-like k rail. Is high visibility combined with boundary marking required? In that case, bright-glowing traffic cones are utilized to help maintain road traffic control.
Emergency Traffic Control
Sometimes, not only a lane but the entire road must be closed for safety reasons. Naturally, Roadway Construction Service also is prepared for that with its unique brand of road closure service. This type of service is indispensable in many situations, particularly when emergency traffic control is needed. A city might, for instance, be facing a rapidly flooding street caused by a broken water pipe. You can bet we'll be doing some road closures when faced with this crisis. We'll also be doing some very rapid responding, a skill we've honed through years of practice.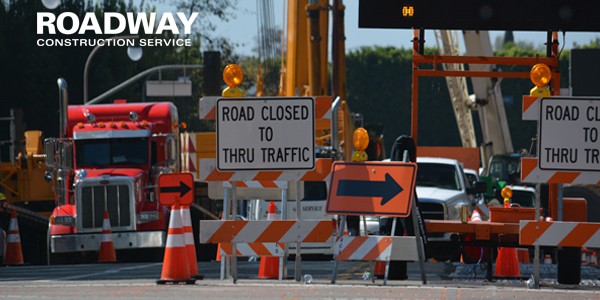 Temporary Road Barrier
Much of our success in the field of temporary road barrier stems from the extensive preparation we go through long before taking any kind of action. The preparation kicks off with the development of an airtight traffic control plan. We think of these plans as two-dimensional. The first dimension builds on the expertise of our temporary traffic management team, which supplies the guiding hand that analyzes, selects, and integrates all strategic components – including the meeting of code requirements.
The second dimension is a more personal layer; it's the unique working relationships we've established with many municipal decision makers. Without their approval, plans remain unrealized. Thanks to our familiarity with this group, we can anticipate their expectations well in advance. Plans, therefore, are readily approved – without costly bureaucratic delays.
Traffic Management in California
For service and solutions, it's tough to beat Roadway Construction Service when you need  reliable residential traffic management in California. And it's equally tough to beat our program of traffic control rental when it comes to availability. We provide the ultimate in wide coverage traffic control service in California. That's because we offer traffic control service in Los Angeles, traffic control service in Orange County, traffic control service in Riverside County, and traffic control service in San Bernardino. Now that's coverage you can count on.