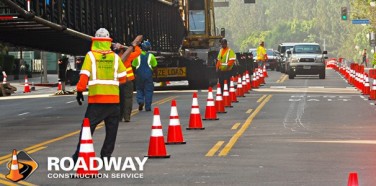 Every temporary road barrier deployed for a project has a crucial role to play. Whether a compact cone or a k-rail, each barricade is part of a vital system designed to optimize safety and maximize orderly traffic flow. Recognizing the indisputable importance of barriers, Roadway Construction Service has developed a road barrier rental program that's second to none. Utilizing a wealth of formidable resources, we consistently meet the needs of all clients seeking effective and reliable barricade solutions. Properly implemented, these solutions are indispensable for keeping pedestrians, motorists, crews, and property safely separated throughout the duration of a project.
Call: (855) 907-7233
When selecting each temporary traffic barrier, our team draws on considerable knowledge, experience, and skill to make the most effective decisions possible. We understand that every situation is different. In fact, every square foot of a work zone is unique, with its own demands.
Because of these inevitable variations, we meticulously evaluate all factors before choosing a barrier. Every barricade must fit like a glove. The misplacement of even one of them can become a glaringly weak link in the traffic control chain. As a first-rate temporary traffic control service, we simply don't allow weak links to compromise the effectiveness of our efforts. Perfection is our overriding goal.
Perfection begins with thorough planning. As our team does with all other traffic control solutions, we choose road barriers only after a thorough analysis of expected worksite conditions. These conditions include everything from anticipated weather, projected traffic flow, road contours, expected traffic flow, and many other variables. A great deal to consider, to be sure. But absolutely necessary when aiming for perfection.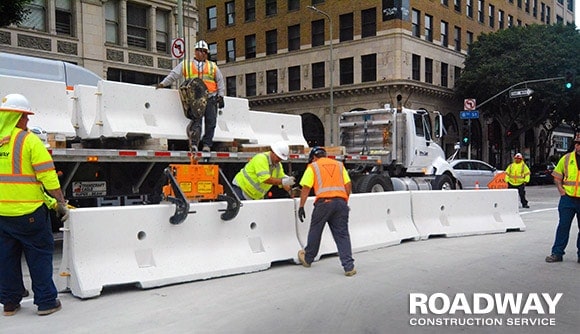 Once every variable is carefully analyzed, a plan emerges. This plan serves as a blueprint, guiding the deployment of road barriers and every other traffic control solution. All pieces are in their place, and we're ready for action.
Road Barrier Deployment
At Roadway Construction Service, traffic control barrier deployment utilizes solutions of varying shapes and sizes. On the compact end of the spectrum are cones. Don't be fooled by their modest dimensions. While individually taking up very little real estate, cones perform a major function. They serve in groups, lined up as boundary markers to keep traffic, pedestrians, and work crews safely separated.
One big advantage of cones is their visibility, which is assured thanks to their unmistakable bright coloring. This coloring gets a boost from its fluorescent tinge, which makes cones conveniently visible even after the sun sets.
One a much larger scale is k rail – or as it is sometimes called, Jersey barrier. With its wall-like structure, this is our solution of choice when maximum strength is needed. Typically, this road barrier is deployed to keep unauthorized vehicles well out of restricted areas.
Along with possessing undeniable strength, our Jersey barrier offers convenient versatility. The barricade is available in two basic types. It may, for instance, be in the category of concrete road barriers. This kind is made of solid concrete, and as such, requires more time and effort to move and set in place. Given this time factor, we utilize concrete Jersey barriers for long term projects.
For more temporary work zone traffic control projects, we use k rail in the plastic road barriers category. Consisting of a plastic shell with a hollow inner water chamber, plastic Jersey barriers are perfect for temporary, short-term projects. Made of lightweight plastic segments, they are easily transported, assembled, set up, and disassembled.
Clearly, if you're looking for a traffic control service that makes every temporary road barrier count, we're you're go to provider. Roadway Construction Service will get it done … and get it done right.