Temporary Traffic Barriers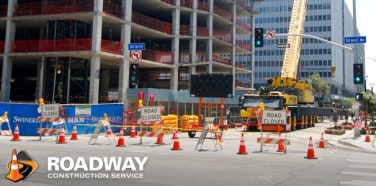 When construction projects or special events are in progress, temporary traffic barriers provide a crucial benefit. Order temporary road barriers with us, full service delivery, setup and management. By helping to keep pedestrians and vehicles out of restricted areas, they ensure maximum work-site safety and orderly conditions. Understanding the importance of these protective devices, Roadway Construction Service has developed a sophisticated program of temporary traffic barrier rental to meet a wide range of needs.
Toll-Free: (855) 907-7233
A variety of these road barricades can be utilized in any project. Selection of these devices depends on conditions and need. But no matter which ones are implemented, they all have a critical role to play in any traffic control strategy.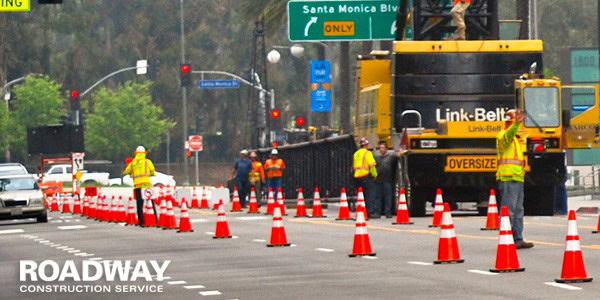 Temporary traffic barriers are available in a wide range of shapes and sizes. At the smaller end of the spectrum, the traffic cone is unique among barricades. It is by far the most compact in the list of devices. Some would argue it is the most visible. This is understandable. Typically, coated in reflective orange or yellow neon coloring, cones can be seen from a 'mile away'. Often, they are put to work marking lane boundaries in the vicinity of work zones and special events. When they're no longer needed, they're easily moved and transported – one big advantage of being compact and light. Just pick it up and take it away. For these same reasons, it's equally easy to set them up.
K-Rail Rental
On the larger end of the spectrum is the big workhorse of the traffic barrier world – k-rail. Alternately known as Jersey barrier, k-rail is a wall-like barrier utilized when maximum strength is demanded. Implementation of this solution is common in specific situations, such as when supporting a temporary lane closure. They're also highly effective for re-routing traffic or for maximizing safety during temporary detours.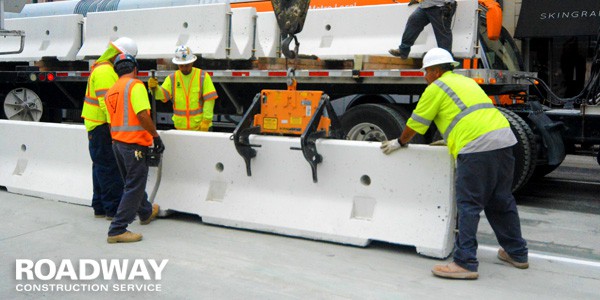 As with other barricades, k-rail offers considerable variety. Concrete k-rail generally is utilized when a massive wall-like structure is required, Because of its size and weight, this type of Jersey barrier requires substantial setup time and therefore generally is utilized for long-term projects. Water-filled k-rail, on the other hand, is ideal for short-duration projects. That's because this barrier's lightweight construction makes it easy to transport, set up, and implement. Made of a rugged plastic, this type of k-rail has a hollow shell that is filled with water to provide sturdiness and strength.
Delineators and A-frame Traffic Barriers
Between these two extremes – traffic cones and k-rail – is a wide spectrum of other temporary traffic barriers. These include delineators and A-frame traffic barriers, both of which are
commonly seen on California's roads and highways. While traffic control barricades provide a crucial service, it's important to remember that their implementation depends on proper permitting. Acquiring the necessary traffic control permits is never a problem for our team. Thanks to extensive experience and long-standing relationships with key decision makers, we expedite the process considerably. Authorizations are obtained in
plenty of time to meet your schedule. These quick turnarounds consistently save clients time and money. Just another reason for choosing Roadway Construction Service when you need traffic control barriers for an upcoming project.