Utility Work Zone Traffic Control Services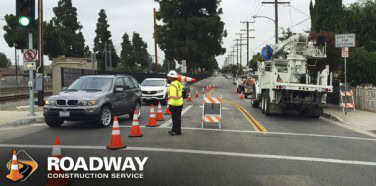 Utility service providers, such as electric and cable companies, often must occupy valuable street space to carry out important work such as necessary repairs and installations. Naturally, this activity means potential traffic issues can and often do arise on the affected roadways. Fortunately, Roadway Construction Service is available to provide a full array of utility work zone traffic control services throughout Southern California. In these situations, our brand of traffic control is ideally suited to every challenge. We have the knowledge, the experience, and the proficiency to supply the area with the most reliable traffic control for utility work.
Call: (855) 907-7233
When implementing a traffic control strategy for a utility work zone setting, we consistently follow a thorough plan developed by our team of proven experts. These dedicated, detailed-oriented individuals have an uncanny knack for assessing a situation and designing the ideal blueprint for effective work zone traffic control.
Traffic Control Planners
Along with an in-depth understanding of their chosen field, our traffic control planners benefit from long-standing relationships with many of Southern California's municipal decision makers. The team knows what these exacting officials expect – and knows how to meet these expectations with airtight strategies that rigorously conform to all relevant codes and regulations.
Road Traffic Control
Of course, not every road traffic control situation can be planned for. Sometimes, the unexpected occurs. That's when our emergency traffic control services come into play. Maybe part of a city has lost power, necessitating the prompt intervention of utility crews. Roadway Construction Service readily provides immediate backup in the form of temporary traffic control geared toward maintaining maximum safety and the best possible traffic flow.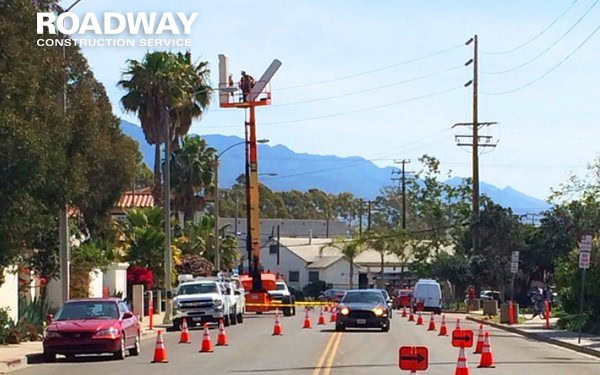 Whether dealing with an emergency or standard situation, one of the biggest challenges facing our traffic management team is the lane closure. Our system of lane closure management consistently meets these challenges with solid solutions. It does the same when an entire road is closed to accommodate utility workers. Our road closure service provides the tools and manpower necessary to maximize work zone safety for all personnel and property in the vicinity.
Traffic Control Barriers
Among the most important contributors to work zone safety are traffic control barriers. These solutions range in size from the wall-like k rail to the compact cone, each offering its own unique advantages for the situation at hand.
The project might, for instance, be short term. In that case, we'll deploy temporary solutions such as water-filled plastic k rail, which is comparatively light and portable. In contrast, our temporary traffic control team will choose concrete k rail for long duration utility work. Being substantially heavier than its plastic counterpart, this barrier can take a considerable amount of time to deploy. Hence, its use for long-term projects.
It's important to note that along with all of our other services, we provide traffic control rental solutions as needed by our clients. But no matter what type of service is needed, you'll find our traffic control service throughout California. We offer traffic control service in Los Angeles, traffic control service in Orange County, traffic control service in Riverside County, and traffic control service San Bernardino. Now that's coverage you really can count on.