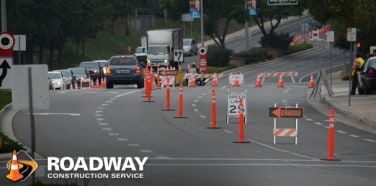 During the installation or repair of public utilities, roadways often must be closed or restricted to allow safe and unhampered completion of the exacting work at hand. In these situations, specialized expertise is called for. Roadway Construction Service provides that expertise with its outstanding utility traffic services. Whenever there's a need for work zone traffic control for public utility projects, we consistently meet the challenge. Roadway Construction Service offers a full array of traffic control services specifically designed for this purpose. Not only do we meet the critical needs of this specialized area; we get the job done with a firm commitment to the safety and protection of people and property.
Call: (855) 907-7233
Successful implementation of utility traffic services demands a multifaceted approach. No one solution is adequate. As a traffic control company with exceedingly high standards, Roadway Construction Service understands this reality. Therefore, we've expanded tremendous effort on the development of each aspect of our comprehensive approach. It's a tough balancing act, to be sure. Fortunately, we're bolstered by a number of key assets such as experience, knowledge, and dedication. Combined, they provide the cement that holds it all together.
Traffic Control Barricades
One of the most important assets in this balancing act is our system of traffic control barricades. These truly function as a complete, interlocking system. Before implantation, the barriers are carefully chosen to meet existing needs, then configured to function as an integrated whole. No one barricade is more important than the other, as they all must support each other as do the parts of the machine. Credit our traffic planners for the uncanny precision of this well-orchestrated arrangement. They are all experts in their own right, combining artistic creativity, keen insight, and technical proficiency to engineer magnificent strategies.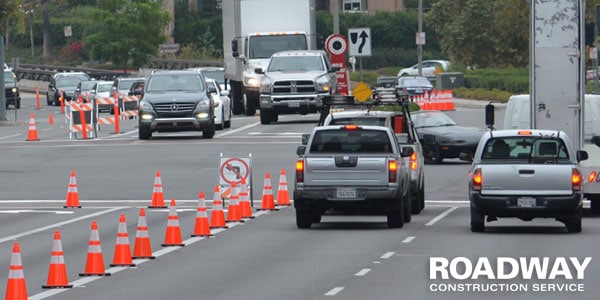 At our disposal is a variety of barriers, such as k rail (or Jersey barrier). This barricade deserves honorable mention, as it is the strongest and most formidable in the bunch. Along with strength, what's notable about k rail is its dual nature. It is available in either concrete form or water-filled plastic.
Invariably, Roadway Construction Service employs concrete Jersey barriers when a solid, wall-like structure is required for long-term projects. After all, who'd want to go through all the trouble of hauling a massive wall and setting it in place, only to move it away in a day or so? Not us.
Temporary Water Filled Road Barriers
Fortunately, for short-term projects, we can install a water filled plastic road barriers. This is made of segmented plastic shells, each of which has a hollow inner chamber that is filled with water to create solidity. Being plastic, the segments are comparatively easy to transport, set up, and dissemble.
Often, Jersey barriers and other barricades are called into action to establish lane closures. In the world of California traffic control, such closures are a frequent duty of a traffic control service such as ours.
Closely related to road closures are road detours, another safety measure requiring the implementation of traffic barricades. To ensure success in this area, we routinely develop sophisticated road detour management plans designed to maximize safety and minimize hassles.
No matter what barriers are used during a utility project, we couldn't get the job done without our team of flaggers. Trained to perfection, these dedicated traffic guards bring a wealth of experience to the table. As experts in their field, they are one of the many reasons for the ongoing success of our highly regarded utility traffic services.