Road Barricades Traffic Control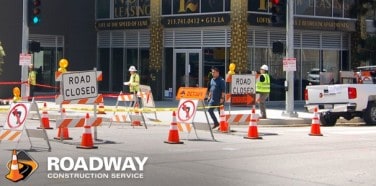 How important are road barricades to traffic control? Very. Without this means of separating vehicles and people from unauthorized areas, safety and traffic flow would be compromised severely. Fortunately, Roadway Construction Service allows for no compromises – on any level. Which is why strive for excellence in the area of barricade deployment. We understand the importance of these separators. And we've gone the distance to ensure every aspect of barricade deployment meets our exacting standards and rigorous requirements.
Call: (855) 907-7233
Road barricades might be needed in a variety of instances. For instance, they often come into play to ensure the safety and efficiency of lane closures. When such closures are implemented, maintaining road traffic control becomes a monumental challenge. Rest assured, our team will rise to the challenge with flying colors. It's easy to see why. Every member of this distinctive group has been trained and educated to perfection. Now couple this with their extensive experience, and you've got the makings of sound decision making.
Traffic Control Barriers
What kind of decision might they be making? One of the big ones will be selecting the proper traffic control barriers. This is not as easy as 1, 2, 3. At their disposal are dozens and dozens and dozens of barriers, each with its own function and suitability for the job at hand. Our team may, for instance, narrow down the field of possible choices to something large and strong. That perfectly describes k rail. With its wall like strength, k rail (or Jersey barrier) is the ideal choice when the ultimate impassable barrier is required.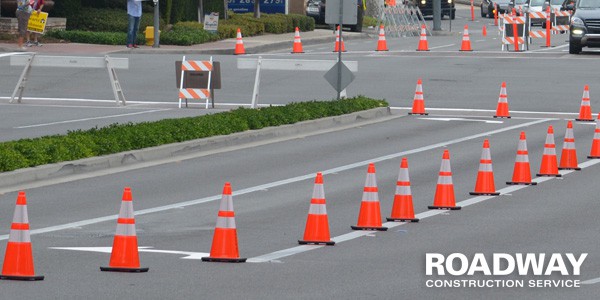 But the decision making doesn't stop there. Once our team has settled on k rail, they still must decide which type. That's right. This barrier is available in two basic types. One of them is concrete k rail. Essentially a concrete wall, this option is suitable for long term projects. After all, implementing this heavyweight takes time and effort. You don't want to be setting it up one day, and taking it down the next.
Water Filled k rail
In contrast, water filled k rail is the perfect choice for short-term projects. Made of comparatively lightweight material, this kind consists of segmented plastic shells, each with a hollow inner chamber. Once the segments are assembled and positioned, the chambers are filled with water to create solidity and resilience. When the job is done, the chambers are emptied and the segments easily disassembled and carried away.
No matter what types of road barricades are chosen for a temporary traffic control project, their selection is the result of extremely careful, detail-oriented planning. You see, we have a team of undisputed experts to handle every phase of the planning operation. As with all our other personnel, this standout group is impeccably well-trained and incomparably knowledgeable.
No question about it. Their knowledge base cones in might handy when designing strategies for the acquisition of traffic control permits. As with virtually all other aspects of traffic control, permits are required for the deployment of barriers. Should right of way issues emerge, encroachment permits also must be obtained.
No worries with Roadway Construction Service at the helm. You can bet our experienced team will acquire all permits in a timely manner – another of the many reasons we're an unfailingly reliable choice when a project calls for the safe and efficient deployment of road barricades.