Los Angeles Traffic Management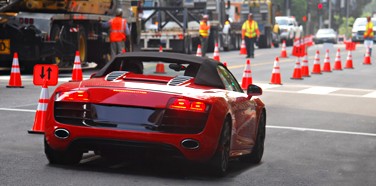 Juggling the Complexities of Los Angeles Traffic Management
Traffic management in L.A. demands a special expertise capable of handling the complexities of this busy metropolis. Roadway Construction Services (RCS) provides that expertise with unfailing efficiency.
Along with the municipal government, numerous industries depend on efficient traffic management in Los Angeles. Telecom, for instance, consistently deals with a wide range of job-site challenges. These include cell tower installations, wireless and wireline infrastructure upgrades, intricate repairs, and routine maintenance. Amidst this flurry of activity, traffic and pedestrians must continue to flow through the surrounding community. Bottlenecks and delays are costly occurrences the city simply can't afford.
To meet these challenges, theLos Angeles telecom industry relies on RCS for a full range of traffic management solutions. Invariably, these measures save telecom companies substantial amounts of time and money.
When implementing traffic management solutions, RCS maintains the industry's highest safety standards. RCS works round the clock to ensure these exacting standards are in place for every project, no matter how big or small.
Much of the credit goes to the dedicated members of the RCS team. Thanks to intensive training, job site personnel can respond to a gamut of safety issues and implement appropriate solutions with maximum efficiency. Moreover, RCS personnel continuously update their skills through ongoing certification programs such as RF Awareness Training.
On the job, RCS team members demonstrate the highest levels of safety awareness. Flaggers, for instance, must be hawks, constantly watching everyone and everything. On their shoulders is the responsibility of protecting work crews, pedestrians, bicyclists, and motorists – anyone on the scene. On top of that, there's the delicate task of holding the flag in the right position. No question about it. Concentration is of paramount importance to these unsung heroes.
To ensure flaggers are up to the task, they must satisfy the company's stringent guidelines. They also must meet the strict guidelines set forth by the state of California. Yes, nothing is getting past them.
From equipment rentals to planning to personnel – numerous factors must be precisely orchestrated when meeting the complex traffic control needs of L.A. Only the best will make the grade.
Fortunately, RCS has proven itself over and over when it comes to traffic management in L.A. – no matter what the requirements or situation. If you're interested in learning more, contact RCS for a complimentary consultation. You'll discover why they're the go-to service for Los Angeles traffic management and all of Southern California.