Arrow Board Rental and Service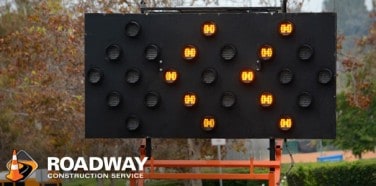 One of the most important facets of traffic management is communicating important information to motorists and pedestrians. The info can be anything from warnings to directions. But whatever the message, it must be conveyed. Arrow boards fill this communication need exceptionally well. Which is why Roadway Construction Service has developed a first-rate system of arrow board rental and service.
Call: (855) 907-7233
What are some advantages of an arrow board? Well for starters, this type of signage is both versatile and highly visible thanks to those big, illuminated arrows. Not only that, the arrow board is admirably planet friendly. That's because it typically is illuminated by solar power. Big clear arrows powered by our nearest star. Great for the planet, great for the project. What more could you ask for?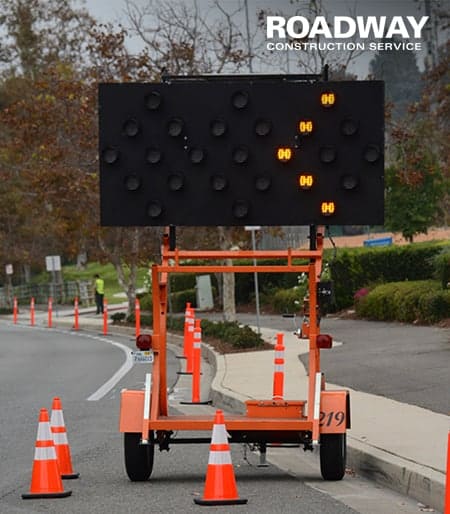 What do you get when choosing Roadway Construction Service for arrow board rental and service? Well, first you'll get a cost-efficient solution customized to your specific needs. For instance, what if there's no need to buy the arrow board? Maybe you need it for a limited time only. No problem. Our system of arrow board services offers convenient rental options. Get as many as you like for as long as you like, without the expense of a full purchase. Definitely a great way to ease budget strain.
Traffic Control Arrow Board
While an traffic control arrow board is one of the primary components of our traffic message board rental program, it certainly isn't the only option in our inventory. Far from it. Roadway Construction Service offers clients a wide array of signs suitable for a variety of purposes. Just have a look at our extensive inventory. You'll see warning signs, regulatory signs, guide signs, and every other type of messaging device under the sun. You name it, we'll have whatever signage is needed to maximize safety from one end of a project to the other. No matter what the scope or duration.
Traffic Control Management
Roadway Construction Service also goes beyond signage with its program of equipment rental for traffic control. By equipment, we mean the very best there is. Consider, for instance, our biggest solutions for traffic control – k rail. Depending on the scope and duration of the project, we can deploy both concrete and water-filled k rail (a.k.a. Jersey barrier).
Traffic Control Equipment
On the other end of the spectrum are the more compact forms of traffic control equipment. These include traffic cones (in assorted sizes), traffic barrels (relatively lightweight and stackable), delineator posts, and A-frame barricades (suitable for both surface streets and freeways). Basically, equipment for every occasion, available in a variety of high-visibility colors. Properly deployed, this equipment supports any configuration of arrow boards, increasing overall safety and protection for the project at hand.
Road Traffic Control
You may be asking yourself, "can you find arrow boards for rent near me?" The answer is a definite yes. Roadway Construction Service supplies a wide range of road traffic control equipment to virtually all of Southern California. So the next time you need first rate arrow board rental and service, be sure to reach out to us. We'll be ready to help. That's a promise you can count on.