Save Time and Money with the Right Traffic Control Plan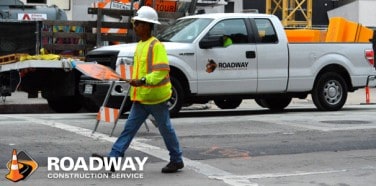 When facing a traffic control project, budgetary concerns likely will grab much of your attention. A primary objective will be saving money while ensuring quality service. Fortunately, it's possible to save time and money with the right traffic control plan. And thanks to years of experience and accumulated knowledge, Roadway Construction Service can develop such a plan for your project. Large or small, the job at hand will be carefully evaluated by our team. The evaluation will provide the raw material on which to build a solid blueprint for effective temporary traffic control.
Call: (855) 907-7233
Many people would be surprised at the level of detail incorporated into our typical traffic control plan. When we provide planning for a traffic control project, we look at every possible variable to get a complete picture of the situation. One of our main considerations is protecting vehicular traffic, pedestrians, work crews, and property. Everything must be where it's supposed to be – and safely separated. To provide this level of protection, our team must develop a rock-solid deployment plan for road traffic barriers. Without question, this is one of the most crucial aspects of road traffic management.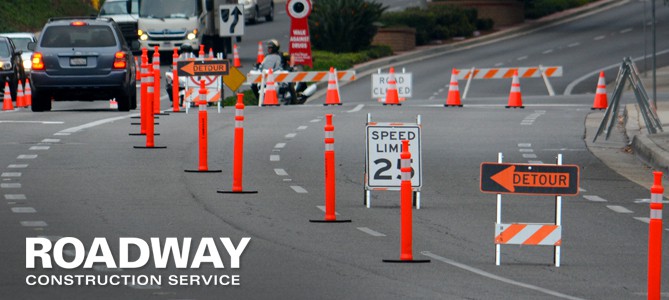 Road Traffic Barriers
Given the importance of road traffic barriers, our planning team devotes a great deal of time to selecting the right ones. This is a major challenge. There are many different types of barriers to choose from, the possibilities varying in size, shape, and function. For instance, a certain section of the work zone might require traffic cones to establish safe boundaries. Whereas, a different area could need the much larger k rail (or Jersey barrier) to provide safe boundaries. Our planners draw from extensive knowledge and experience to determine the optimum choices.
Naturally, traffic control barricades aren't the only critical component of effective traffic control services. Along with this hardware, the human element has an important role to play in the overall plan. This human element, of course, is our traffic control flaggers. We select and deploy these with the utmost care. No worries with these experts on the job. Trained to the highest standards, they are masters of road traffic control. To perform their duties, they use hand and flag signals to communicate with each other and equally important — to communicate with motorists. Without the contribution of these experts, effective road traffic management would be impossible.
City Encroachment Permits
When providing traffic control, we often must close or restrict certain areas of a work zone. This requires the acquisition of city encroachment permits, one other matter dealt with during the planning stage. With Roadway Construction Service, there are two aspects of permit acquisition. The first is knowledge – the kind that has made our planners thoroughly familiar with municipal codes and regulations. This advantage enables our team to formulate precision plans that easily conform to local requirements.
The other aspect is our familiarity with local decision makers. Through years of experience, we've established favorable relationships with these important people. We understand their expectations and therefore can deliver exactly what they want, when they want it.
Clearly, clients gain many advantages when selecting traffic control planning with Roadway Construction Service. From expert personnel to road traffic barriers to city encroachment permits, we've got you covered. It's an easy choice. If you intend to save time and money with the right traffic control plan, just reach out to us. We're ready to help.