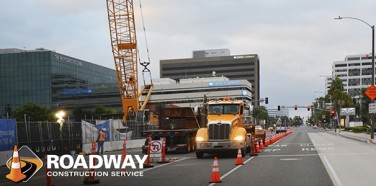 Are you overseeing a construction project that requires expert traffic control to ensure the safest possible conditions? Clearly, you have a great deal to consider, including selecting a reliable sign rental company to help ensure job site safety. In that case, you might be wondering – where can I find sign rental companies near me?  Well, look no further than Roadway Construction Service. Offering abundant experience and a firm commitment to customer service, we are a premier provider of road construction sign rentals in Southern California.  Whether your project is large, small, or somewhere in the middle, we'll have the solutions you need – when you need it.
Call: (855) 907-7233
When you choose Roadway Construction Service for traffic sign rental, you'll get more than signage. You'll get our acclaimed expertise in choosing the right signs and configuration for your project. Not as simple as it sounds. There's a wide range of signs used for maintaining order and safety at construction sites. Some describe road conditions, others provide warnings, and still others direct motorists to slow down. Many other types of signs may be deployed, as well. Clearly, a reliable program of traffic sign rentals demands great insight and precise decision making. Exactly what we have in abundance.
Traffic Control Sign Rental
Our traffic control sign rental program provides solutions for both construction sites and any connected areas that may impact these sites. These areas include nearby roads and highways. For example, Roadway Construction Service supplies signage for road closures, traffic detours, and any other road situations requiring effective messaging to maximize safety. Our road closed sign rental program is just one way we address these associated situations. It's obvious, then, that construction sign rental has far-reaching applications to an interconnected system of work activity and localized traffic flow. In a sense, construction signage helps keep it all in sync.
Electronic Message Road Sign Rental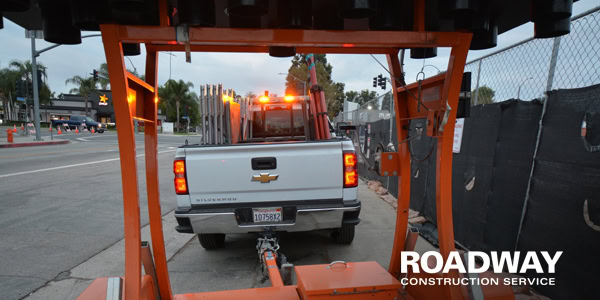 At Roadway Construction Service, road sign rental isn't limited to conventional solutions. We also offer attention-grabbing, technology-driven messaging through our electronic message road sign rental program. Recognized for both its sophistication and effectiveness, this program supplies high visibility traffic message boards that cover a wide range of situations and conditions. One of the most common announcements they make is — 'Road Construction Ahead. Expect Delays'. Now who hasn't seen that one?  The electronic boards also may communicate local weather conditions and other relevant data.
MUTCD Compliant Traffic Control Company
Rest assured, Roadway Construction Service is a MUTCD compliant traffic control company. What exactly does that mean? In a nutshell, it means our signage selection process is guided by a special sign chart that conforms to the standards established by MUTCD – Manual of Uniform Traffic Control Devices. The manual was prepared by the National Highway Association. The upshot, of course, is that our selection standards consistently match those established by this prestigious organization.
Construction Sign Rentals
Remember, when you choose Roadway Construction Service for construction sign rentals, you also get an array of first-rate support services and solutions. These include equipment such as road barriers, as well as a team of qualified personnel such as traffic control flaggers. Given this depth of comprehensive solutions, you'd be entirely justified in seeing us as a sign rental company you can count on. And we're pleased to say you'd be very, very right.