Traffic Barricades for Traffic Management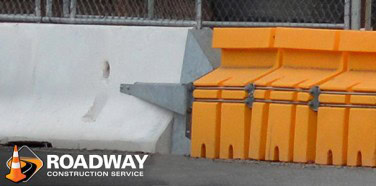 When you have a major project that will impact traffic, maintaining safety and order requires more than expert personnel. It requires the deployment of traffic safety barricades. Here at Roadway Construction Service, we've got you covered. We provide barricades for all situations and conditions. Our construction barricades, for example, are top tier selection when construction site safety is paramount. And even if your project is a small parade, we'll maximize safety with the right road barricades.
Call: (855) 907-7233
Traffic control barricades come in a wide range of shapes and sizes. They also can be made of a variety of materials. This includes the plastic water filled barricade. That's right. Roadway Construction Service often deploys these water-filled traffic barricades for short term assignments. That's because they're lightweight and comparatively easy to move. To accommodate the frequent need for these safety barricades, we've developed a comprehensive program of water barricade rental for short duration projects.
Concrete Traffic Barricades & Road Barriers
In contrast, Roadway Construction Service utilizes concrete traffic barricades for long term assignments. There's a practical reason for this. Made of solid concrete, these street barricades aren't exactly lightweights. It takes a considerable investment of time and labor to move, place, and remove a road barricade with this material composition. Therefore, we use these barriers only when they'll be left standing for a while – generally weeks.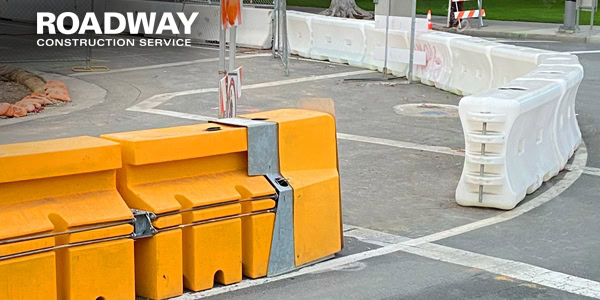 Water Filled Plastic K Rail Management
Either plastic or concrete may be used in k rail, a wall-like barrier utilized for the most extreme heavy-duty work. We deploy these highway barricades when it's vital to keep unauthorized vehicles out of restricted areas.
Often, barricade rental services must address the needs of pedestrians as well as vehicles. You can bet Roadway Construction Service is ready with the right solutions. One of the most important of these is ADA barricades, which are fully compliant with all applicable government regulations.
Safety Barricades Rental
Our safety barricades rental program accommodates a wide range of project types – large, medium, or small. But whatever the category, you can count on Roadway Construction Service to design the perfect deployment plan. In fact, without a suitable plan, barricade traffic services would be a guessing game. Not exactly the ideal way to protect people and property. No, we prefer to get everything figured out well in advance. To do that, we've brought on board a team of master strategists who thoroughly understand traffic barricades – and how to use them to maximum advantage. Not only is this team top-of-the-game in the science of traffic control planning, they're indisputable experts in the art of interpersonal communications. That helps enormously. You see, through the years these strategists have developed strong professional relationships with many of Southern California's key decision makers. Therefore, when submitting plans for the deployment of traffic barricades, they know exactly what these decision makers expect. The result? Very quick approvals. One more reason to select Roadway Construction Service for road barricade rental.
Clearly, Roadway Construction Service is the ideal go-to resource for anyone seeking reliable traffic control services. We have the experience, the know-how, the solutions, and the dedication to ensure the best results on any project. That's something you can count on — every day of the year.