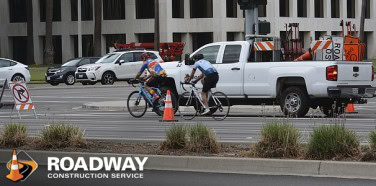 Maybe you have a special summer event to deal with. Or perhaps a major construction project. Whatever you're focused on, chances are you'll need reliable road barricades to keep the project zone orderly and safe. You'll also need a proven temporary traffic control service to deploy this equipment in a timely, efficient manner. Fortunately, you'll get both when you select Roadway Construction Service for the project. With years of experience and a stellar track record, we provide a wide array of solutions you can rely on. So, relax. Roadway Construction Service is on the job.
Call: (855) 907-7233
Road barricades go a long way toward keeping event areas and construction zones safe. In fact, neither could operate properly without this equipment in place. And operating properly is crucial. That's because the stakes are so high. After all, you wouldn't want people, vehicles, or even pets drifting into unauthorized areas. Barricades minimize the chances of this happening. No matter what size they happen to be. Small, large, or medium, these barriers do a great job at preventing unwanted encroachments. And by doing so, they offer maximum protection to people and property.
Traffic Safety Barricade Services
When providing traffic safety barricade services, Roadway Construction Service must cover the gamut. For certain situations, compact solutions are the way to go. Traffic cones are ideal in these instances. For some people, cones appear to be a less than formidable solution. After all, how can something that size prevent encroachment. The answer is simple – visibility. With their reflective coloration, cones can be seen from a long way off. And that can make all the difference in the world where safety is concerned.
K Rail Rental
Naturally, certain traffic control barriers do get the job done through sheer strength. The strongest of these solutions is k rail, which we offer through our acclaimed k rail rental program.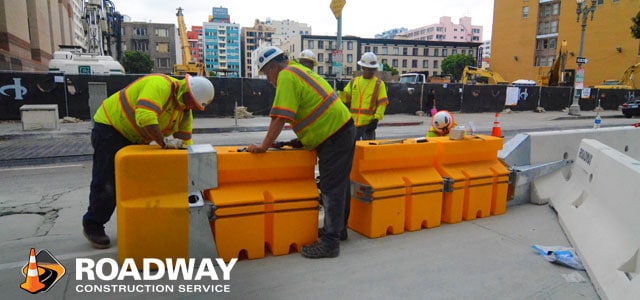 Also known as Jersey barrier, k rail essentially is a low wall constructed in segments. But even with these, there's a certain amount of specialization. Our k rail rental program offers both water filled plastic type and the concrete type, each one suited to a different type of assignment. Concrete k rail, being made of very heavy material, isn't exactly a breeze to load, unload, and move into place. It takes time to get the job done. Therefore, we deploy the concrete wall for, you guessed it, long duration projects.
Plastic K Rail
Plastic k rail, on the other hand, is comparatively lightweight and portable. Yes, it takes time to deploy this wall. But not nearly as much as concrete requires. Obviously, we use this for short-duration assignments, such as rousing parades or other public events.
What gives plastic k rail its strength? The source is on the inside — an inner chamber, which is filled with water to create both resilience and solidity.
Road Traffic Control
When deploying barricades to maintain effective road traffic control, Roadway Construction Service is carrying out a plan of action devised by a team of experts. These experts are the traffic control planners comprising our team. Masters of road traffic management strategies, they combine knowledge and insight to craft airtight plans for every project. The selection of road barricades starts with this team, as does the selection of every other traffic control solution. Which only goes to show that, at Roadway Construction Service, all solutions begin with expertise … and continue forward from there.