Road Traffic Control Device Services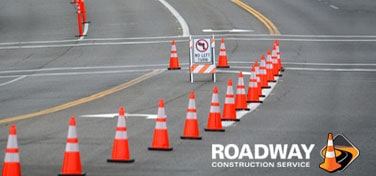 If you are embarking on a project that involves a workforce operating on a public road, safety is a paramount concern. In particular, it is vital to focus on three separate groups when considering the safety methods required:
The safety of the workforce is, of course, a paramount concern. Team members who are working close to normal traffic face a unique set of dangers, and only a specially-designed work zone traffic control service is able to suitably protect workers throughout a project.
The safety of normal road users, such as the cars, lorries, and trucks that are traveling along the route where work is taking place. Often, these projects can involve the use of heavy plant machinery with limited visibility, which could pose a risk to other vehicles on the road.
The safety of pedestrians who may be walking or jogging along the route where work is being conducted. Pedestrians face threats from both the work machinery and the usual traffic, especially if the traffic is diverted to navigate past a work site; a threat that can be mitigated by the installation of pedestrian traffic control services.
Thankfully, there is a way to ensure that all three of the above are protected and safe for the duration of a project: road traffic control device services from us at Roadway Construction Service.
Call Now: (855) 907-7233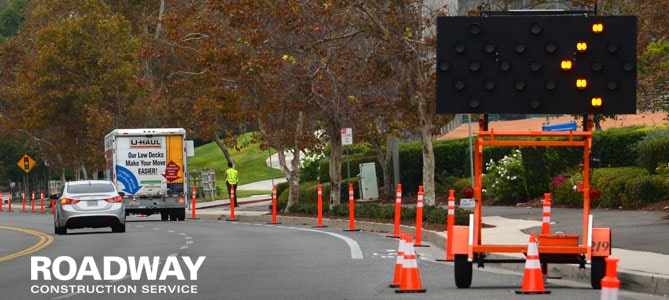 The types of road traffic control devices
There are a number of different work traffic control devices that can be used to enhance the safety throughout a road maintenance project. Each device has been created to deliver a specific benefit; we at RCS will be happy to consult with you to ensure you are able to obtain the most suitable device for your needs. Here's an example of the devices we have available to our clients:
Perhaps the most recognizable form of road control device is the humble traffic cone; these cones are commonly used as a form of temporary traffic control. Cones are usually enhanced by a reflective band across the center to allow for night usage. Traffic cones can also be used as channelizing devices to direct a flow of traffic away from a worksite.
Arrow boards are another popular form of traffic control device, as they can indicate to road users that a lane is closed from a distance. Arrow boards are usually illuminated, making them suitable for both day and night projects.
Construction barrels can also be used for channelizing, and are more noticeable than standard cones, which can be helpful when prioritizing work zone safety. As the barrels are larger and more obvious to road users, they are less likely to be overlooked than other forms of road traffic control devices.
A jersey barrier – also known as a K rail – can provide extra security when seeking to separate lanes of traffic. As well as protecting the workforce on the road, jersey barriers are essential for road user safety due to their ability to ensure head-on collisions – which may occur as a result of lane closures – are avoided at all times. K rails can be made from concrete or plastic, the latter of which are filled with water to offer extra crash protection for the workforce.
Surface markings are another form of road traffic control device. The options discussed thus far are all forms of physical control; devices that are placed on the road surface to direct traffic. Road surface markings perform the same function, but are applied directly to the road rather than simply sitting atop it. They can be used for street traffic control purposes and are often enhanced by reflective material to ensure continued visibility at night.
Rumble strips offer an additional awareness to drivers who are approaching a site where extra caution is required. As the vehicle passes over the rumble strip, the driver will feel a strong vibration, helping to draw attention to the road ahead and ensuring the driver is ready to negotiate any traffic management ahead.
Temporary traffic lights also serve as road traffic control safety devices. Though lights do not offer crash protection in and of themselves, they can be used alongside other measures – such as jersey barriers – to combine road user instructions along with beneficial safety measures for the crew.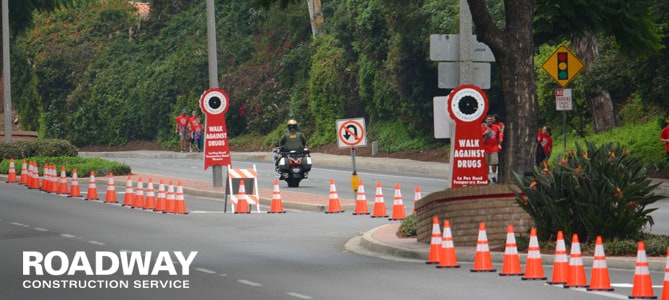 As useful as the items above can be, it is important to note that these devices alone cannot safely manage the flow of traffic past a work site – they have to be selected specifically for the task at hand, be erected safely, obtain the correct city permits, and encompass solutions such as buffer zones in order to work to their full potential. Due to the importance of road traffic control devices, it is important to contract an expert to manage this process – and we at RCS would be delighted to assist you in achieving this goal. We are an established, authority in road traffic control who can manage the process from start to finish, leaving you free to focus on the work itself while we manage the road safety requirements.
Road Traffic Control Device Services from RCS
At RCS, we offer a complete road traffic control device service that can manage the entirety of your project. We offer a proven ability to encompass all areas of road control and safety, ranging from road barrier rental/installation/management services to assisting with the application for encroachment permits.
Our services are available to cater to a range of different needs, ranging from standard traffic control due to road maintenance through to special event traffic control. Our road traffic safety service can be customized to meet your specific needs, is suitable for projects large and small, and – most importantly of all – allows you to enjoy peace of mind that all workers and road users will be protected at all times.
The roads are always open, and so are we: our service is available 24/7, and we pride ourselves on our ability to go above and beyond for our clients. To discuss your road traffic control device needs, please do not hesitate to get in touch today – we look forward to hearing from you.