Street Closure Permit – Permit to Block the Street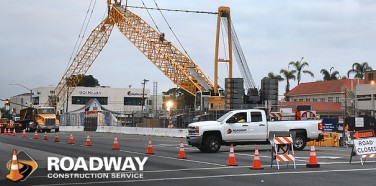 In busy Southern California, Roadway Construction Service often provides traffic control services for the region's numerous bustling cities. Many times, the services include the closure of a street or streets. Before we can even consider shutting down a public roadway, however, we must obtain every needed street closure permit – or permit to block the street. Not exactly a piece of cake. But thanks to our vast resources, we consistently get the job done with plenty of time to spare. The upshot? Clients can count on projects to start on schedule and on budget.
Call: (855) 907-7233
Generally, Roadway Construction Service must get a street closure permit in one of four primary Southern California areas – Los Angeles County, Orange County, Riverside County, and San Bernardino County. Each of these sprawling municipalities has its own characteristics and challenges, which must be addressed during the permitting process. Thorough knowledge of each locale's regulations, codes, and ordinances is imperative. Fortunately, our traffic control planners are well-versed in all the legal details. Equally important, they're well-connected with many of SoCal's municipal decision makers. We know what they want and what they expect well in advance.
Road Closure Permitting Process
The permitting process is particularly challenging in the largest of our service areas – Los Angeles County. This metropolitan sprawl, of course, centers around the city of Los Angeles itself. The region is crisscrossed by every type of roadway imaginable, from small suburban streets to that world-famous network of mind-boggling freeways. L.A. county is as diverse as they come, divided into a multitude of cities each with its own set of regulations and codes. To ensure timely results, our planners know the legal details pertaining to each area — and how they apply to the road closure strategy being considered. If we've done our homework (and we always do) all the pieces fit. Which means we get quick authorizations for each needed Los Angeles street closure permit.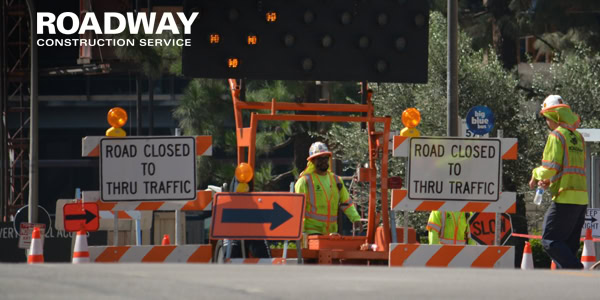 Getting a permit to block a street in Orange County is no less challenging, although we're dealing with challenges on a more compact level.  As with Los Angeles, Orange County is divided into a diversity of cities, each with a unique set of features. Among the major cities are Costa Mesa, Irvine, Mission Viejo, and Tustin. In any one of these at any time, the need for a street closure may arise for reasons ranging from massive construction projects to public events. Again, our strategists are ready with an array of resources necessary to secure permits in record time.
Traffic Control Flaggers
For street closures in Riverside County, Roadway Construction Service operates on a slightly smaller scale than we do for Los Angeles or Orange County. Nevertheless, an abundance of strict regulations apply. Whether we're servicing the city of Riverside itself, or any of the region's neighboring areas, airtight planning is required to ensure all needed permits are granted. The plans presented to decision makers cover an array of key details. These include traffic control barriers and traffic control flaggers to be deployed, project duration, and anticipated conditions.
Southern California Traffic Management Company
As with all the other geographical areas, we apply consummate expertise and extensive experience when seeking to block a street in San Bernardino County. The city of San Bernardino and its surrounding areas may be more open than L.A. Nevertheless, it's still a mighty busy place. You can bet street closures regularly crop us. Rest assured, however, Roadway Construction Service is ready to secure every needed street closure permit for San Bernardino County. As with every other covered area, we provide unequaled permitting expertise to this stretch of Southern California. But then, we get a lot of practice.