Street Traffic Control Service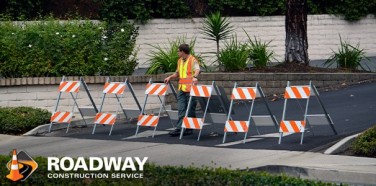 What's the most obvious sign of top-tier street traffic control service? At Roadway Construction Service, we think the clearest indicator is a provider's safety record. Ours, we're confident in saying, is a shining example of excellence. Getting to this point took a whole lot of hard work, dedication, and experience, all assets we have in abundance.
Call: (855) 907-7233
Is there a secret? Not really. Somehow, Roadway Construction has managed to take those three elements, harness their power, and mold them into a flawless system of traffic control unlike any other. The results are undeniable – we get the job done right, every time.
Traffic Control Planning & Permitting
An effective street traffic control service begins at the beginning – with meticulous traffic control planning and analysis. Supporting us in this exacting endeavor is a superstar team of strategists, who thoroughly understand traffic management and all its nuances. Their keen insight is evident at every stage of the game. Consider for a moment that the most crucial of all traffic management quests – the acquisition of permits. These are not easily secured. To acquire a necessary authorization, local decision makers must receive airtight traffic control plans. This document often includes proposed actions that necessitate specific permits. A road closure for a special event may, for instance, be one of these proposed actions. In that case, street closure permits are mandatory.
Such permits are only one of the many types that play a crucial role in the field of temporary traffic control. Securing any of them requires proven expertise, as consistently exemplified by the savvy strategists of Roadway Construction Service.
Road Traffic Control Services
Along with this expertise, there's a kind of social element underpinning our success in the field of road traffic control services. That social element consists of the many long-standing relationships established between our team and various municipal decision makers. These may be local officials, business representatives, and other people of consequence. All of them have their own criteria that must be met prior to the granting of permits or approving of plans.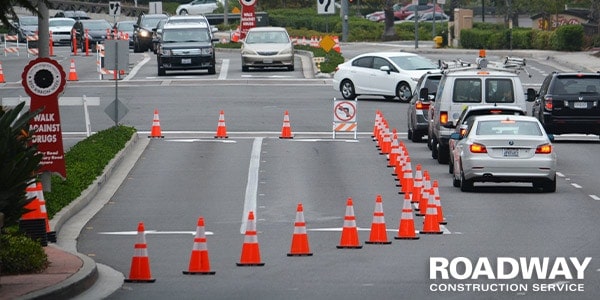 Because we're familiar with this group — and with their expectations — we've developed a knack for delivering exactly what they want. The result? Rapid approvals with minimal red tape. Which means we're consistently ready to service your project in a responsive, timely manner ideally suited to super-tight schedules.
Traffic control permit acquisition is only one facet of traffic control preparations. Also required is a careful selection of temporary street barricades. These might include everything from cones to k rail, all of which must be chosen according to specific parameters.
The final touch of the preparatory stage is the planning, selection, and deployment of street traffic flaggers, who perfectly complement the protective functionality of barricades. Together, street traffic guards and road barricades provide a solid safety 'shield' for every project we service.
Work Zone Traffic Control Services in California
Not surprisingly, Roadway Construction Service offers traffic control assistance to a variety of project types. These include busy work zones, for which we offer the highest caliber work zone traffic control. We also service special events, emergencies, and other situations with a full range of proven solutions. It's all part of our acclaimed street traffic control service, a recognized symbol of excellence throughout Southern California.