Traffic Control Contractors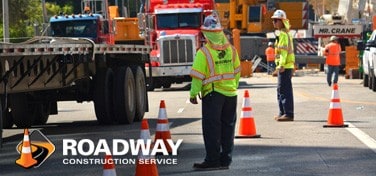 Alright, you're facing a major traffic control project. Where do you look? Who can you count on? The obvious is answer is a proven team of traffic control contractors. Only they have the necessary credentials, experience, and track record. Roadway Construction Service satisfies this set of criteria with ease. Just ask any of our clients.
Call: (855) 907-7233
It's no exaggeration to say Roadway Construction Service excels in the art of traffic control. We're thorough, experienced, knowledgeable, and dedicated. And we really like what we do. No team of traffic control contractors ever embraced their job with more gusto.
This commitment and enthusiasm come through in every job we do. Even in what seems to be a routine task. Like the deployment of traffic control barriers. Nothing routine about this when we tackle the job.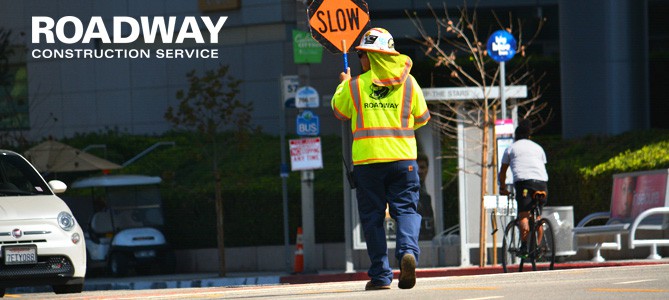 Before one cone touches the ground, before one delineator guards a road, we research the situation thoroughly. Our project strategists determine the conditions, the layout, the traffic flow, and all other relevant variables. We know the who, what, when, and where before we even think about deployment.
Road Barriers for Traffic Control
Once the critical facts are known, the selection process commences. Depending on our projected needs, we'll select traffic barricades from a deep inventory. The range of possibilities includes high-visibility cones for 'lighter' duty work to the concrete wall-like k-rail (a.k.a. Jersey barrier).
But the decisions don't stop there. For instance, when choosing k-rail, our strategists must determine which type – water-filled plastic or concrete. The latter typically is utilized for temporary or short-term projects, while the latter usually gets pegged for long-term jobs.
Traffic Guards For Hire
Roadway Construction Service pays equal attention to flagger selection. How many will be deployed and where will they be stationed are two questions we must answer with reliable precision. But no matter what the answers are, one fact remains constant – our team of flaggers is second to none. Enthusiasm and dedication are two reasons they excel in their roles. Another reason is their knowledge. This is vast. Our flaggers know the roads, the conditions, the traffic flow, and the possible hazards. And it's kept well in their sights as they guide vehicles, crews, bicyclists, pedestrians, and even a few pets on safe and secure paths.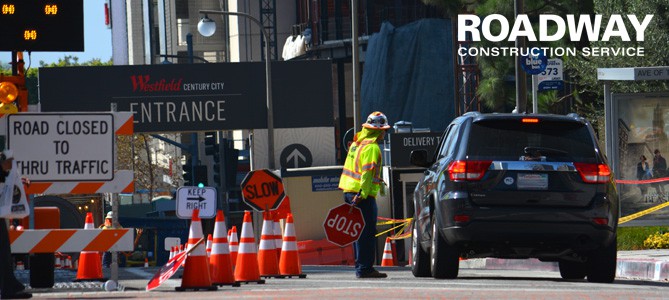 How do these expert flaggers accumulate the knowledge and skill for the job? One route is experience. They have years of it. But the other begins long before they take the field. This is the highly-acclaimed Roadway Construction Service training program. Grueling, yes. Thorough, you bet. But when flagger trainees emerge from the regimen, they're unquestionably qualified. As proof, they have the industry's highest recognitions, including OSHA certification. Yes, you can count on our flaggers to make the right decisions.
Our traffic control services also include different levels of preparatory work. Take, for instance, the acquisition of encroachment permits. Our permit specialists know all the technical details as well as the major decision-makers throughout Southern California. Consequently, we reliably anticipate needs and expectations for a variety of situations. This ability to see the road ahead enables us to expedite what often takes eons to complete. With our team at the helm, permits are secured with blazing speed, eliminating one of the most common causes of project delays.
Yes, Roadway Construction Service can provide these and many other vital traffic control solutions, depending on your requirements. But no matter which ones we supply, rest assured they'll be organized and tailored to fit your schedule. And should the unexpected happen, requiring emergency traffic control services, we offer the same reassurance. We're the traffic control contractors who'll be there when you need us, 24/7/365.