Traffic Control Specialists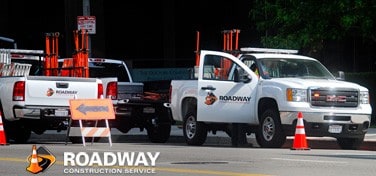 Effective road traffic control isn't a luxury in Southern California; it's a necessity. Easy to see why. SoCal residents are constantly on the go, day or night. And usually, the going takes place in a motorized vehicle navigating the region's vast network of streets. Things can get dicey very quick if vehicle-flow is interrupted, delayed, or stopped. As premier traffic control specialists, Roadway Construction Service understands the situation with crystal clarity. Which is why we've developed a comprehensive traffic control program to meet the area's many challenges.
Toll Free: (855) 907-7233
By comprehensive, we mean complete coverage of all the bases – the ultimate multi-dimensional approach to traffic control. The first of these dimensions is the permitting space. First, not because it's the most important but because it must be deal with early-on. Without properly authorized permits, nothing moves forward. Not even if it's the embodiment of traffic control perfection. City permitting, therefore, is a process we tackle with all engines revving. Our efforts have paid off handsomely, allowing us to secure authorizations such as encroachment permits in record time.
City Encroachment Permits
Once we've completed the city encroachment permit process, we're ready to implement traffic control solutions. This really showcases the multi-dimensionality of our service lineup – and the reason we're known for being detail-oriented and exceptionally thorough. Deployed at this stage is everything we've got. Safety and efficiency are the overriding concerns of our team.

Lane Closures
Typically, one of the first duties we tackle is lane closures. The last thing a work zone needs is a flow of vehicles inadvertently crossing into restricted areas. This tends to annoy work crews, particularly if they've just busted their humps to resurface a road – and now must re-do because tire tracks are decorating the new asphalt.
Lane closures and all other traffic control duties reveal the human dimension of Roadway Construction Services in all its glory. Here, traffic flaggers take center stage. They're the ones maneuvering brightly-colored flags to keep vehicles, bicyclists, pedestrians moving forward with maximum safety. A big part of their effectiveness is the training they receive, a thorough regimen that earns them many key certifications, including OSHA.
Not as well-trained but equally effective are all types of road barriers and traffic barricades, which we deploy with admirable skill. Everyone has seen these road barriers. They range from small but highly-visible orange traffic cones to the massive wall known as K Rail (a.k.a. Jersey barriers). And just to make things interesting, these large road barriers are available in two types. Concrete K rail (solid concrete) is intended for the long-term assignment. Temporary assignments typically are handled by plastic-shelled, water-filled Jersey barriers. As with everything else in our lineup, all of these barriers constitute yet another important dimension in our lineup of traffic control services.
Would you like to learn more about the advantages offered by our traffic control specialists? Reach out to Roadway Construction Service any time. We'll be happy to provide additional information and answers to all your questions.