Traffic Message Boards for Traffic Control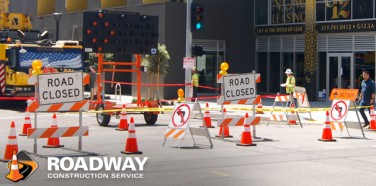 We've all seen them at one time or another while motoring down a road or highway. Known as traffic message boards, this portable signage is deployed in a variety of traffic control situations. Highly visible, these message boards are indispensable for the maintenance of safety and efficiency on all our public roads. Recognizing the importance of these communications devices, Roadway Construction Service offers a full range of traffic message boards for traffic control. No matter what your need or situation, our program of traffic message board rental will provide a timely and efficient solution.
Call: (855) 907-7233
Why deploy traffic message boards for traffic control? After all, aren't all the other traffic management solutions more than adequate? Not when you consider the fact that message boards have a special role to play — a role that would be impossible to fill by any other traffic control component. A traffic board spells out loud and clear exactly what motorists must be aware of. Think of it as an enormous display screen for very large text messages … the ultimate roadway news service. The boards might convey something about road conditions up ahead, a developing emergency, traffic flow, and any other high value info for the time-pressed highway traveler. And all of it is delivered by the energy-saving efficiency of solar power.
Message Board Rental
Roadway Construction Service puts great emphasis on its program of message board rental. Not only do we maintain the devices to perform with unfailing reliability; we utilize a sophisticated, internally developed system for their rapid and efficient deployment.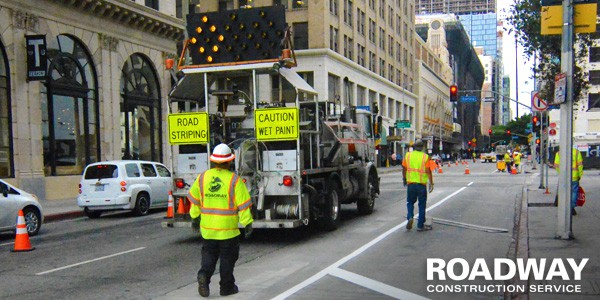 But message boards are only one part of the traffic control equation. They can't go it alone — nor were they ever meant to. Roadway Construction Service therefore has integrated message boards into our full lineup of traffic control services. The communication devices work seamlessly with a wide range of other offerings.
Among these offerings is our acclaimed system of traffic barricades. From compact cones to k rail, our traffic control barriers are expertly chosen and deployed to maximize safety and efficiency.
Traffic Control Flaggers
Traffic control flaggers, too, play a vital role in our overall traffic management program. Like message boards, they communicate info to motorists, as well as to pedestrians. Their messaging, however, is immediate and tactical, while board communications is a long-range affair – as in traffic jammed for next 10 miles or debris ahead. Flaggers cover the on the spot reporting; boards, the advanced warnings. Both compliment each other and work in tandem.
Whether selecting and deploying traffic message boards, traffic control barricades, or flaggers, getting it right depends on developing an effective traffic control plan. In this department, Roadway Construction Service consistently earns high marks. Our precision planning lays the groundwork for success in the field. It all starts here.
Traffic Control Planning
An adjunct to the traffic control planning stage is the permitting process. Thanks to our expertise and thoroughness, our strategies easily match the expectations and needs of regional decision makers. Our team, therefore, has a knack for obtaining quick approvals and eliminating costly delays.
It's clear that our traffic control program has many moving parts. One of these is traffic message boards for traffic control. But this service has enormous support from all other components, including barricades, flaggers, planning, and permitting. It all works in sync to create an unmatched system of highly effective traffic control.