Streamline Road Traffic Control with Roadway Construction Service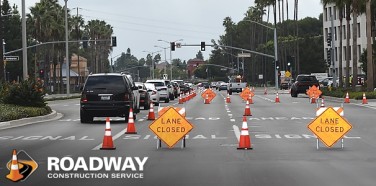 No matter where your traffic control project is located, you probably would like the most streamlined, efficient traffic control to maintain order and safety in the vicinity. Rest assured, your objectives can easily be met. No matter what the scope of your project, you can streamline road traffic control with Roadway Construction Service. You might say streamlining is in our DNA, motivating us to develop and deploy incomparably efficient, responsive road traffic control plans that satisfy both your budgeting and scheduling requirements.
Call: (855) 907-7233
It's no easy task providing streamlined Southern California road traffic control services. This region is extraordinarily busy round the clock. Public events, road closures, construction projects … maybe even a burst water pipe causing major street flooding. All of these occurrences seem to be taking place at once, creating a critical need for streamlined temporary traffic control services capable of a swift, effective response. Delays and mismanagement are not an option. Every second counts when dealing with the intricacies of Southern California traffic control.
Streamlining Traffic Control Services
Streamlining traffic control services begins during the planning stage. During this phase, project details are examined with microscopic precision. Every variable is evaluated and assembled to create a complete picture of the pending project. This picture reveals exactly what's needed, giving our planners a firm basis on which to build a streamlined traffic control plan. The trick here is to develop solutions that comply with local municipal codes, which typically vary from area to area. Thankfully, through years of accumulated experience, our strategists have a firm grasp of these codes in all their nuanced complexity; and they can apply them with the efficient precision that's possible only when experts are holding the reins.
Traffic Control Barriers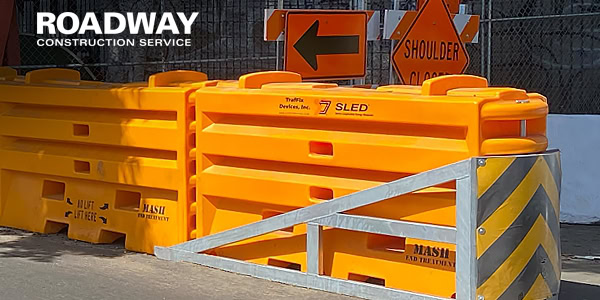 Invariably, our team must incorporate traffic control barriers into any finished plan. Proper selection is paramount. Will cones be needed? How many and for how long? What about delineators and other barriers? Should these be deployed? Dozens of questions just like these are raised and answered during the planning stage. The accuracy of the answers depends on the experience and skill of our team, which we're proud to say is considerable.
K Rail Management
But this process goes beyond barrier selection. It also includes traffic barrier installation and management. We might, for instance, need to perform a k rail installation, a task requiring a fine-tuned system of k rail management. Will we be deploying concrete or water filled k rail? Or possibly both? Each barrier has its own requirements, invariably creating unique managerial challenges for our team. Fortunately, they rise to those challenges every time.
Traffic Control Flaggers
Personnel also enter the picture during the planning of traffic services, with traffic control flaggers taking center stage in this department. Expert communicators, flaggers are indispensable for the maintenance of safety and efficiency of virtually any traffic control project. As with barriers and other traffic control components, these experts must be selected, deployed, and managed to conform to a streamlined plan — a result you can rely on with Roadway Construction Service at the helm.
So your choice is clear. If time and budget are high priorities, opt to streamline road traffic control with Roadway Construction Service. Nothing could be more advantageous.