Traffic Control Management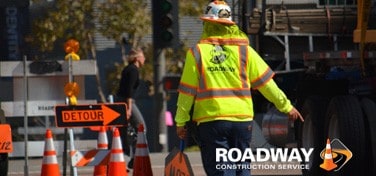 Thousands of people heading everywhere and anywhere simultaneously – that pretty much describes conditions on California's crammed roads and highways. Now imagine having to guide a portion of that flow past a busy construction site or special event. Roadway Construction Service does this on a regular basis. As a premier provider of traffic control management, we keep things running smoothly, even in the most challenging situations. Motorists, bicyclists, pedestrians, even pets … we make sure everyone and everything traversing the roads does so in a safe, orderly fashion.
Toll-Free: (855) 907-7233
Effective traffic control requires ample preparation. Before anything is deployed, before anyone arrives on the scene, our experts map out a strategy to ensure optimal results. During this preparatory stage, we consider numerous variables. Everything from anticipated traffic flow to expected weather conditions are examined and analyzed. During this preparatory phase, we also secure key authorizations, such as encroachment permits.
Our entire supply of expertise, experience, and keen insight come into play at this stage. But the effort is well worth it. Thanks to this thoroughness, we provide the safest, most reliable traffic control services in Southern California.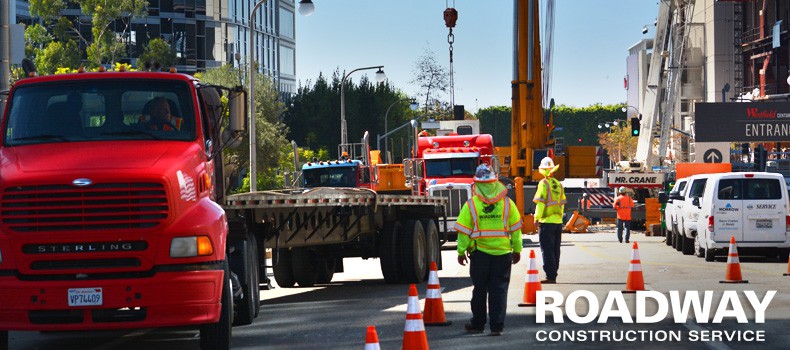 It all comes together beautifully when we deploy our road traffic management strategy. This is the moment of truth – the stage in our operation when our squad implements and coordinates all components of our traffic control master plan. Will it all work out as we envisioned? You bet it will.
One of the first areas we tackle is lane closures. No question about it. To maintain safe, orderly traffic flow, we must keep certain lanes traffic-free. Important things might be happening in and around these pathways. In most cases, intruding traffic would be very unwelcome. Thus, lane closures are a high priority for us.
Keeping these spaces free and clear demands both hardware and personnel. To cover the hardware side of things, we stock and deploy a variety of world-class road barriers. They're available in all sizes and shapes, depending on specific need.
When it comes to compact road barricades, nothing beats our supply of road traffic cones. Precise positioning is crucial to ensure effectiveness. We're pleased to say our cones are extremely effective – and generally well-respected. What they lack in bulk they more than make up for with visibility. Who could miss that screaming bright orange from anywhere on the planet?
Equally effective, but in a different way, are the largest in our stock of road barriers – k rail (a.k.a. Jersey Barrier). These function as a mighty wall that keeps all unauthorized traffic out of restricted areas.
What road barriers can't provide, our road traffic flaggers do. Trained to the highest safety standards, they rule over the roads. Expert communicators, they guide motorists, pedestrians, and crews with snappy signage and sophisticated flag signals.
Is our expert traffic control management available in your area? Most likely. We cover Los Angeles County, Orange County, Riverside County, San Bernardino County, Ventura County, Kern County, and San Diego County. So yeah, we're probably within reach.