Raising Driver Awareness in Highway Construction Zones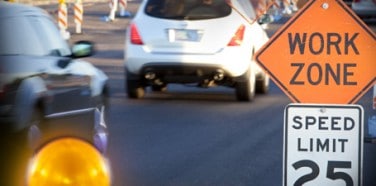 As a dedicated traffic control service in L.A. and Orange County, Roadway Construction Service (RCS) knows the risks associated with distracted driving in highway construction zones. When concentration is disrupted by activities such as texting and cell phone chatting, drivers are far less aware of their surroundings – which includes hard-working construction crews. Since work crew safety is of paramount importance at RCS, we support all programs and endeavors aimed at minimizing and eliminating distracted driving in highway construction zones.
We're encouraged by the progress Caltrans is making in this area. Currently, the organization is intensifying its efforts to improve highway safety for both workers and drivers. To attain this goal, Caltrans is expanding its efforts to educate motorists about safe driving in and near work zones.
Work Zone Overview
As a first order of business, Caltrans wants motorists to know exactly what a work zone is. In a nutshell, a work zone is a roadway area in which construction, maintenance, or utility-work is taking place. Drivers should have no trouble spotting these areas. They're clearly indicated by objects we're all familiar with – signs, cones, barrels, channeling devices, barriers, and pavement markings. One or more work vehicles frequently will be on the scene. Yes, very view things are easier to spot than a work zone.
It's Simple to Be Work Zone Alert
Along with Caltrans, RCS wants to emphasize that safe work zone driving really is a simple matter. First, when nearing one of these areas, slow down and stay on high alert for signs and flaggers. That's it. No excuses. Just do it.
Another proven solution is not doing something while driving — namely texting and cell phone chatting. The law enforcement community strongly backs up this mobile phone abstinence. In a recent survey of law enforcement officers, 79% believed that eliminating cell phone usage by drivers would dramatically reduce the number of traffic incidents they handled.
If you're interested in learning more about construction and work zone safety, contact RCS for a complimentary consultation. You'll discover why we set the safety standard for temporary traffic control services throughout Los Angeles, Orange County, and all of Southern California.